NexGen Implant Patients Required Zimmer Knee Replacement Revision Surgery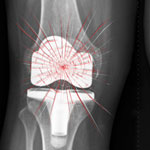 Zimmer Inc. is a medical device manufacturer specializing in orthopedic implants. A particularly popular class of implants known as artificial joints have been the subject of a number of lawsuits relating to Zimmer knee complications. Zimmer's NexGen knee replacement model has been the target of many of these lawsuits, and plaintiffs in these lawsuits claim that their implants were defective or failed, some resulting in Zimmer knee replacement revision surgery. Despite data and lawsuits attesting to the contrary, Zimmer resolutely defends the safety of their device and continues to make it available to consumers. Neither Zimmer nor the FDA have instituted a recall of the dangerous implant, although Zimmer has issued recalls of certain defective components of the device.
Zimmer insists on the safety of their product, despite reported Zimmer knee complications
In a statement regarding concerns about the safety of the NexGen device, Zimmer asserts that the implant is "safe and effective," and that the NexGen is "the most trusted knee replacement system in the world." The company points out that the FDA has never issued a Zimmer NexGen knee implant recall, and that many of the problems being reported are a result of surgeon errors as opposed to device malfunctions. Zimmer acknowledges its own voluntary recall of a tibial component of the implant, but otherwise resolutely defends the safety of the NexGen knee.
Critics call for Zimmer NexGen knee implant recall
However, critics remain outspoken in their skepticism about the safety of Zimmer's device. A former Zimmer consultant and "master teacher," Dr. Richard Berger, has now become one of the most outspoken opponents of the Zimmer knee. In the face of Dr. Berger's criticisms, Zimmer maintains that the device is "the best performing of all major knee replacement systems." The FDA has yet to issue a statement on the matter, and the debate will likely continue indefinitely until the administration takes a stand. In the meantime, injured patients continue to consider filing a Zimmer NexGen knee lawsuit.
[SmartLink zimmerkneelawsuit]