Number of Lawsuits Alleging Internal Bleeding from Pradaxa Continues to Rise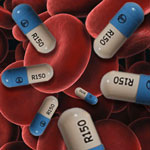 A growing number of plaintiffs are filing lawsuits against drug company Boehringer Ingelheim Pharmaceuticals charging that they suffered internal bleeding from Pradaxa, an anticoagulant medication. Pradaxa is used to prevent stroke in patients who suffer from non-valvular atrial fibrillation, a condition that allows blood clots to escape and move through the patient's body.
One such plaintiff is Jacqueline Boston, who filed her lawsuit on May 11, 2012 in the U.S. District Court for the Southern District of Illinois
Plaintiff suffered gastrointestinal bleeding after less than a month on Pradaxa
According to her lawsuit, Boston was prescribed the drug in November 2011 to treat her irregular heartbeat. Within a month of beginning treatment with Pradaxa, she suffered gastrointestinal bleeding and spent 12 days in the hospital. Her lawsuit charges Boehinger Ingelheim with failure to warn, and seeks compensatory and punitive damages for her injuries.
More than 500 deaths linked to Pradaxa
Boston is far from alone. Pradaxa was approved by the FDA and put on the market in 2010, but within the first 14 months, the FDA received more than 500 reports of deaths linked to side effects of Pradaxa, as well as more than 900 cases of gastrointestinal bleeding, more than 300 cases of rectal bleeding, and more than 200 cases of cerebrovascular accidents among Pradaxa users.
Pradaxa was marketed as a more convenient alternative to warfarin, another anticoagulant, which requires patients to follow dietary restrictions and regularly monitor their blood levels.
Both Pradaxa and warfarin carry the risk of internal bleeding and hemorrhage, but in the case of warfarin, the bleeding can be controlled with vitamin K. In contrast, bleeding caused by Pradaxa has no effective antidote.
In March 2012, the New England Journal of Medicine published a letter from a doctor about the risks of Pradaxa which stated "We are concerned that the potential risks of this medication are not generally appreciated. The serious consequences of a lack of an effective reversal agent should not be underestimated."
Because Pradaxa does not require dietary restrictions as warfarin does, the drug quickly became popular, generating more than $1 billion in sales for the manufacturer. The combination of a popular drug and serious side effects indicates that the rise in Pradaxa litigation is likely to continue.
[SmartLink pradaxalawsuit]