Recalled DePuy ASR Implant "Too Challenging", Lawsuit Claims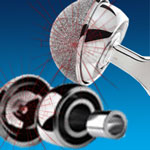 A new DePuy hip lawsuit charges that the ASR hip implant device recalled in 2010 was "too challenging" for orthopedic surgeons to implant properly, and that DePuy knew of these problems long before recalling the device. The lawsuit was filed by Mitchell Chestang on May 15, 2012 in the Superior Court of the State of California, San Francisco. The suit names as defendants DePuy Orthopaedics, Inc., parent company Johnson & Johnson, and Thomas Schmalzried, M.D., designer of the implant.
Chestang was implanted with the ASR system on March 26, 2009. He subsequently experienced severe pain and difficulty in walking, and will likely need revision surgery.
Although DePuy voluntarily recalled the ASR hip system in August 201, Chestang's lawsuit charges that DePuy knew about the design's serious defects long before the recall and should have taken action sooner.
"Press-fit" design was extremely complex and difficult to implant properly
Like other lawsuits of this type, Chestang's lawsuit points out the problematic metal-on-metal construction of the ASR hip, which had both a metal ball and a metal acetabular cup, which meant the friction of metal parts rubbing against each other could cause metal debris to rub off and get into the bloodstream.
But in addition, the lawsuit also points out another issue of the hip model: that it was exceedingly complex and difficult for orthopedic surgeons tto implant properly. The device did not have screws or any other method for attaching it to the patient's pelvic bone. Instead, it was what is called a "press-fit" device. The surgeon would ream out the patient hip's socket until it was slightly smaller than the ASR cup, and then use an "impactor" to hammer the ASR cup into place. The patient's bone was then expected to grow into and adhere to the cup's outer shell.
However, the walls of the ASR cup were thinner than those of cups in other models. According to the lawsuit, this made it vulnerable to become deformed or out of its proper shape when the surgeon hammered it into place.
Company received warnings of defects years before recall
Chestang lawsuit adds that DePuy began getting reports of ASR device failures within the first two years of the implant going on the market in 2003. For example, a prominent Irish orthopedic surgeon, Dr. David Beverland, stopped implanting the ASR in his patients in 2007, stating as his reason the high number of device failures and need for revision surgery. Yet the DePuy hip implant recall was not issued until 2010.
[SmartLink depuyhiplawsuit]