Texas Plaintiff's DePuy Hip Lawsuit Sent to MDL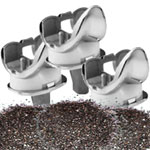 In May 2012, the multidistrict litigation against DePuy Orthopaedics welcomed a new DePuy hip lawsuit. The plaintiff, a resident of Texas, claims to have sustained injuries from her ASR hip implant, which was recalled in August 2010. As a result of the allegedly faulty device, the orthopedics manufacturer faces hundreds of lawsuits from patients who suffered injuries and were forced to undergo DePuy hip revision surgery as a result of their ASR or Pinnacle hip implants. Recipients of both models seek compensation for their injuries.
New DePuy hip lawsuit joins Ohio MDL
On May 16, 2012, Nina Moore's DePuy hip lawsuit joined hundreds of others in ASR multidistrict litigation, which is headquartered in the Northern District of Ohio under Judge David Katz. The consolidated cases have joined together to perform pretrial processes, including discovery, but each will return to its home district for an individual trial. Orthopedics experts and doctors involved in the design of DePuy's ASR hip are currently giving depositions to be used during trial.
High ion levels could lead to DePuy hip revision surgery
Nina Moore's lawsuit is different from many of her peers due to the fact that the plaintiff has not yet undergone DePuy hip revision surgery. However, Moore reportedly already has elevated ion levels in her blood stream, which could present risks in the future that lead to surgery. DePuy's ASR hip replacement system was recalled in 2012 due to high rates of reported loosening and device failure that led to necessary revision surgery to repair or replace the damaged hip.
Pinnacle hip problems could lead to device recall
The Food and Drug Administration (FDA) has not issued any warnings related to DePuy's Pinnacle hip system. However, the device has also been plagued by patient complaints and lawsuits leaving some to speculate as to its own future on the market.
[SmartLink depuyhiplawsuit]