Vaginal Mesh Complications Blamed on Design Defect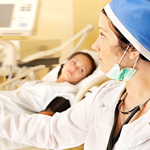 A new vaginal mesh-related lawsuit was filed on the 14th of May, 2012, by a North Carolina woman who claims that she experienced side effects and complications as a result of her use of the device. The plaintiff filed her lawsuit in the United States' District Court for the Western District of Mississippi, but the case was later transferred to the current multi district litigation case taking place in the Southern District of West Virginia in a move that took place on the 29th of May, 2012. The plaintiff claims that she experienced serious injuries as a result of her implantation with a vaginal mesh device and as a result she is seeking a settlement for vaginal mesh side effects that she has encountered. She is asking for general, special, and punitive damages.
AMS Monarc device in question
The plaintiff's lawsuit names device manufacturer American Medical Systems as the defendant because the specific device she was implanted with was the AMS Monarc Sling system, which is a transvaginal mesh product that is designed to treat stress urinary incontinence as well as pelvic organ prolapse. Pelvic muscles can weaken as women age or after childbirth, and as a result pressure, pain, and urinary incontinence can be caused by organs that are no longer adequately supported. The Monarc device is a narrow strip of mesh that supports the urethra and helps reduce symptoms of incontinence in patients.
According to her lawsuit, the plaintiff experienced a number of serious side effects after being implanted with the device on the 8th of June, 2008, including extreme pain, vaginal mesh erosion, painful sexual intercourse, as well as other injuries. The Food and Drug Administration has issued a warning regarding the potential side effects of these vaginal mesh devices, noting over 1,000 complaints related to pelvic mesh products. However, this warning came too late for many plaintiffs.
Defendants should have warned of risks
The plaintiff's lawsuit, which is similar to many other transvaginal mesh lawsuits, claims that the manufacturers of the device should have warned patients and physicians about the potential serious side effects of their devices.
[SmartLink vaginalmeshlawsuit]