Wrongful Death Suit Filed After Pradaxa Bleeding Death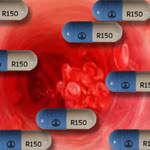 A Tennessee resident filed a lawsuit with the help of a personal injury lawyer against drug maker Boehringer Ingelheim Pharmaceuticals, Inc. after his father allegedly passed away as a result of side effects he experienced as a result of his use of Pradaxa. Melvin Giles, Jr. filed suit against the drug maker after his father allegedly passed away as a result of his use of the anticoagulant medication. The lawsuit was filed in the United States' District Court for the Middle District of Tennessee on the 12th of June, 2012.
Several deaths linked to Pradaxa
According to the lawsuit, Melvin Giles Sr's physician prescribed the medication as a blood thinner. The medication is typically used to treat heart rhythm problems and to reduce the risk of blood clots and stroke in patients who are at risk for these conditions. He was prescribed the medication in February of 2011, and in June of 2011, Giles Sr suffered bleeding in his gastrointestinal system and passed away as a result on the 21st of June, 2011. His son's lawsuit claims that the bleeding was caused or worsened by his use of the blood thinner Pradaxa. As a result he has filed a Pradaxa lawsuit against the drug maker.
Giles' lawsuit says that the defendant knew or should have known about the potential for the medication to cause serious complications, and reports the 932 instances noted to the Food and Drug Administration between October 2010 and March 2011 related to side effects of the medication. 120 of these involved death from Pradaxa bleeding, and 500 were severe and life-threatening bleeding events related to the medication.
No reversal agent found
Unlike some other anticoagulant drugs, many of which can cause bleeding, Pradaxa has no apparent solution to the bleeding. Other similar medications can have identical side effects, but can be reversed with the administration of vitamin K or other treatments. However, it is not clear what will work on Pradaxa–or if anything will.
[SmartLink pradaxalawsuit]