Zimmer Alleges Hip Problems Due to Surgeon Error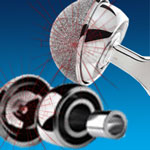 Though many Zimmer hip lawsuit plaintiffs allege that the Durom Cup, or Durom Acetabular Cup, is prone to device loosening, implant failure, and can even cause metallosis, the manufacturer maintains that its product is safe. In fact, while some estimates put Zimmer hip failure numbers around 24%, the company states that such issues are uncommon and remain within industry standards at 1.5%-5.7%.
Surgeon reports Durom Cup prone to Zimmer hip implant failure
The Durom Cup is a monoblock implant with an all-metal design. The device boast a porous surface, which allows the patient's bone to fuse to the device – a feature meant to create a more natural hip joint and greater range of movement. Unfortunately, as some patients allege, the implant's metal-on-metal design actually causes device loosening and Zimmer hip failure.
Dr. Larry Dorr, an orthopedic surgeon, was the first in his field to report Durom cup movement and migration, and stated that the implant can even pop out of position. In a 2008 letter to the the American Association of Hip and Knee Surgeons (AAHKS), Dr. Dorr stated that the Durom Cup was prone to failure within two years of implantation, a time frame far smaller than the industry standard. In response, Zimmer stated that the implant exhibited industry-acceptable failure rates of just 1.5% to 5.7%. At least one lawsuit, however, disagreed, placing the true rate of Zimmer hip failure at more than 24%.
Implant problems from Zimmer hip include metal poisoning
The Durom Cup is composed of chromium and cobalt alloy metals, and is also coated in titanium plasma spray. As a result, some Zimmer hip lawsuit plaintiffs claim that these metals flake off, traveling through the blood stream, invading organs, and causing a type of metal poisoning known as metallosis. Metallosis can have long-term effects on a patient's healthy, including heavy metal buildups that cause what The New York Times deems a "biological dead zone."
Zimmer hip lawsuit complaints continue
Though Zimmer company never issued a Durom Cup recall, it did take the implant off the market from July to August 2008, in order to investigate claims of implant problems. Zimmer concluded that its Durom Cup is safe, and that reported problems are in fact due to surgical error. At the same time, the manufacturer reissued its detailed surgical instructions, stating that metal-on-metal devices can be difficult to implant properly, but when done correctly preserve the hip cavity and therefore create a safer, better experience for the recipient. Nevertheless, Zimmer hip plaintiffs report ongoing problems with the Durom Cup.
[SmartLink zimmerhiplawsuit]