Zimmer MDL Adds Kansas Plaintiff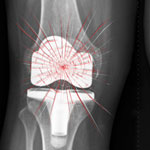 The multidistrict Zimmer knee replacement lawsuit currently ongoing in the District Court for the Northern District if Illinois has added another plaintiff as Manhattan, Kansas resident Dinah Terrill filed a lawsuit relating to several Zimmer knee components including the Zimmer NexGen LPS-Flex, the NexGen GSF LPS-Flex and the NexGen MIS Tibia.  Originally filed on May 25, 2012 in the District Court of Kansas, Terrill's lawsuit has been consolidated with the MDL, where it will undergo pretrial proceedings with many other Zimmer knee lawsuits.
Terrill's complaint states that she received Zimmer knee surgery on October 5, 2009.  After her implantation procedure, she began to experience pain, discomfort and loss of mobility in her knee.  Upon examination, doctors determined that she had experienced Zimmer knee failure due to her implant loosening, and she would have to have revision surgery in order to fix the problem.  It is generally understood that revision surgery is more difficult and painful than the original implantation surgery, and requires substantial physical rehabilitation therapy.
Terrill is suing for compensatory and punitive damages for her injuries, many of which will be permanent.  If her case is not resolved during the initial stages of the MDL, it will be transferred to the District Court of Kansas to proceed to trial.
Surgeon reviews Zimmer knee failure
While many doctors initially embraced the NexGen knee implants, reports of problems began to arise as early as 2005.  Dr. Richard A. Berger of the Rush University Medical Center in Chicago formerly served as a consultant for Zimmer, and was on the vanguard of surgeons to first use the uncemented version of the Zimmer CR-Flex.  He estimated that he performed implant procedures on approximately 125 patients in 2005, but eventually noticed that the implants were improperly or failing to fuse with the femur as expected and were becoming loose.
Zimmer contests doctor's findings
Dr. Berger and his colleague surveyed 108 of his patients who had received the implant, and found that 8.3% of those patients had to have revision surgery within 2 years of their original procedure.  There was also evidence of loosening in 36% of all recipients of the device.  Dr. Berger told the New York Times that he had "lost confidence" in the products.
In response to complaints of knee implant loosening, Zimmer claims that the instances of loosening were because of surgeon error rather than a design defect in the device. It firmly stands behind its products, even as more litigants come forward.
[SmartLink zimmerkneelawsuit]