A Class I Recall Is Issued By the FDA Against Naturalyte and Granuflo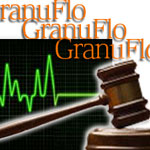 A Class I recall is the most serious kind of recall the FDA can issue. This action typically involves products the agency believes will cause serious medical problems or even death in users. In the case of the Granuflo recall (as well as the recall of Naturalyte), more than 900 cases of cardiac arrest were reported in patients at the Fresenius centers during a single year. The recall involves both the Naturalyte Liquid Acid concentrate and the Naturalyte Granuflo powder solution.
The FDA issued the Class I Naturalyte recall, as well as a Granuflo recall, amid growing reports of Fresenius dialysis problems and adverse side effects from using Granuflo. The products have been linked to hundreds of cases of cardiac arrest during 2010. The products have been found to increase bicarbonate levels in the blood, which is a significant risk of cardiac arrest.
Increased bicarbonate may increase the risk of cardiac arrest
These products both contain acetate, which converts to bicarbonate in the body. The formulas are typically administered in combination with bicarbonate solutions. Because there is more acetate in these products than other dialysis formulas, the increased amount of bicarbonate in the body may increase the risk of cardiac arrest in patients receiving the Naturaltye products. Physicians must exercise extreme caution when administering these products, because of this increased risk.
A Fresenius internal memo, leaked to the FDA, led to the recall
Fresenius conducted its own investigation into cardiac arrest reports, which found excess bicarbonate increased the risk for heart issues. Although Fresenius sent a memo to its own clinics in 2011, warning them of the potential for Fresenius dialysis problems, the company did not notify customer companies that also used the Naturalyte products.
The FDA was also not informed of this problem, until an anonymous copy of the memo was sent to the agency. At that point, the FDA launched an investigation into the products, which resulted in the Naturalyte recall and Granuflo recall. The FDA requires the company to notify all affected entities of the potential for Fresenius dialysis problems, including customer companies, the medical community and the general public. The warning issued in the Granuflo recall states "an inappropriate prescription of Granuflo or Naturalyte can lead to a high serum bicarbonate level in patients undergoing hemodialysis." The issue can result in a myriad of problems for the patient, including low blood pressure, cardiac arrhythmia and hypokalemia; all conditions that can lead to cardiac arrest.
In addition to the Granuflo and Naturalyte recall, an investigation has been launched into Fresenius dialysis problems, and the company's lack of notification to the medical community outside their own clinics.
[SmartLink granuflolawsuit]