A Former Zimmer Knee Consultant and Others Cite High Complication Rates in the Device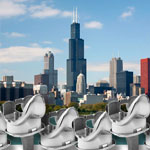 Zimmer NexGen knee implants were released on the market in 2003. In 2010, orthopedic surgeon and former Zimmer consultant Richard Berger reported that he and his colleagues had observed that after two years of use, 36% of the Zimmer NexGen CR-Flex knee implants had loosened prematurely (out of a total of 108 patients observed in this non-peer reviewed report). The doctors stated that, "this component is still commercially available but should not be used for any patient."
Zimmer Inc. responded by stating that the problems associated with the knee implants were because of surgical error. In February 2012, however, the Mayo Clinic reported that their study of Zimmer NexGen knee implants also showed a high rate of complications, including premature loosening. The scientists noted that the majority of the failures could be blamed on the fact that the cementless tibial component was separating from the bone.
A lawsuit is filed against Zimmer knee
Illinois resident F. Lynn Bieri recently filed a new lawsuit against Zimmer knee in the U.S. District Court for the Northern District of Illinois, the location of the current Zimmer hip multidistrict litigation (MDL). The plaintiff and her husband filed the approved short form complaint for the liability litigation on July 12, 2012.
In this Zimmer knee lawsuit, the plaintiff brings counts of design and manufacturing defect, failure to warn, negligence, breach of warranties, unjust enrichment, and redhibition. Her husband claims loss of consortium.
As do other plaintiffs seeking a Zimmer knee settlement, Mrs. Bieri claims she suffered injuries after implantation with the Zimmer NexGen LPS-Flex, a device that was marketed as offering improved durability and flexibility compared with older implants.
According to Bieri's Zimmer knee lawyer, she went through total knee replacement surgery when she was 66 years old. At Lake Forest Hospital in Illinois, she was implanted with the Zimmer NexGen Knee on her right knee around November 10, 2009. After the surgery, she suffered from pain and loosening of the implant. She was later told that because of failure of the Zimmer knee, she would need revision surgery to replace the defective implant.
Zimmer calls for hundreds of cases to be dismissed
On September 28, 2011—less than two years after implantation—Bieri went through revision surgery at Rush University Medical Center. Her NexGen knee was removed, and another implant put in its place.
Though Bieri adopted the master complaint for this case, it remains to be seen if the complaint will hold up in court. According to recent reports, Zimmer, Inc. has presented arguments to the federal judge in the Zimmer MDL in an effort to have hundreds of claims dismissed.
On February 27, 2012, the company filed a motion to dismiss the master complaint, stating that its allegations are too general to meet federal pleading standards. Judge Rebecca R. Pallmeyer is expected to announce her decision on the motion in the coming weeks.
[SmartLink zimmerkneelawsuit]