A Report Causes Increased Concern About Pradaxa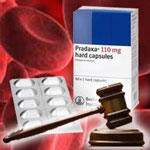 Pradaxa first hit the drug market in October 2010. Between January and March of 2011, 932 adverse event reports involving the drug were received by the FDA, including reports of Pradaxa side effects such as internal bleeding, hospitalization and death. More than 500 of those reports had to do with bleeding. This drug has been highly touted as a safe alternative to an older blood thinner known as Coumadin, due to its effectiveness and ease of use. However, Coumadin offers an antidote if a patient begin to bleed while taking the drug. Pradaxa offers no such antidote, which leaves doctors with few good options in treating Pradaxa hemorrhage.
Adverse events rise from Pradaxa
A report by the Institute of Safe Medicine Practices (ISMP) was concerning and the news only got worse throughout the year. By the end of 2011, the ISMP reported at least 3,781 adverse events caused by the drug, including 2,367 reports of bleeding. The total also included 644 adverse event reports for stroke, 291 involving renal failure and 542 deaths. An additional 15 cases of liver failure were also suspected during the year.
The numbers were reported by Quarter Watch, a surveillance program used by ISMP to track adverse drug events reported to the FDA. The large number of reports of serious Pradaxa side effects prompted the FDA to launch a safety investigation into the drug. The agency has also delayed approval of a new drug that is similar to Pradaxa, but marketed as a safer alternative. European regulators have also asked manufacturer Boehringer Ingelheim to update the product label, warning of the risk of internal bleeding.
The FDA scrutinizes Pradaxa and a request to consolidate
As the drug faces further scrutiny by the FDA, many injured users of Pradaxa have filed a Pradaxa lawsuit and pursued legal compensation for their injuries. As the number of lawsuits involving Pradaxa has grown, a request has been made to consolidate the claims into a single central location as a multidistrict litigation (MDL). This move to an MDL would expedite cases filed by injured Pradaxa users by coordinating much of the pre-trial proceedings.
In the first quarter of 2011, more patients reported serious side effects to the FDA about Pradaxa than with any other drug on the market, according to research by ISMP. As more lawsuits are filed across the country, these statistics become instrumental in determining whether those who were given the anticoagulant were adequately warned about the risks they were facing.
[SmartLink pradaxalawsuit]