A Woman and Her Husband Sue Multiple Manufacturers For Her Vaginal Mesh Problems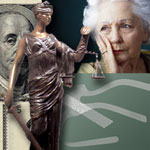 According to the complaint drawn up by an Alabama woman and her husband's vaginal mesh lawyer, she was implanted with products manufactured by Johnson & Johnson (J&J) and Ethicon, Inc. on February 6, 2008. She was later implanted with a product manufactured by Boston Scientific Corporation on November 8, 2010.
Vaginal mesh products like these are often used to help repair pelvic organ prolapse, which may occur as a result of multiple childbirths, surgery or menopause. A woman's pelvic muscles become weakened and stretched to the point where they can no longer adequately support pelvic organs like the bladder, uterus and bowel. Resulting symptoms may include a sense of pressure, pain during intercourse, and stress urinary incontinence (SUI).
Vaginal mesh products are made of a surgical mesh material intended to provide additional support to dropped pelvic organs. In 2001, however, the FDA warned that complications with these products were not rare, and often required numerous corrective surgeries.
As a result of the implantations, the plaintiff in this case alleges that she suffered severe and permanent bodily injuries and significant mental and physical pain and suffering. She has also undergone corrective surgery and hospitalization.
Plaintiff states the manufacturers knew or should've known of defects
The plaintiff brings counts of negligence, manufacturing defect, failure to warn, and breach of warranties. Her husband is suing for loss of consortium.
In addition to her claims of personal injury, the plaintiff states in her complaint that the products made by the defendants were defective, and that the manufacturers knew or should have known that they exposed patients to the risk of serious harm.
According to the vaginal mesh lawsuit, scientific evidence shows that the polypropylene material from which the products are made is "biologically incompatible with human tissue and promotes a negative immune response in a large subset of the population. The complaint goes on to state that this response promotes inflammation of the pelvic tissues, and that the products are unreasonably susceptible to shrinkage, contraction and "creep," or the gradual elongation and deformation of the mesh when subject to prolonged tension inside the body.
Suit claims defective design
The case, alleging transvaginal mesh complications, was filed by the couple's attorney in the U.S. District Court for the Western District of Missouri.
The plaintiff brings counts against Ethicon, J&J, and Boston Scientific. She alleges she suffered from injuries after being implanted with mesh products to treat her SUI and pelvic organ prolapse. She also states these products are defectively designed and are susceptible to shrinkage and contractions inside the body.
[SmartLink vaginalmeshlawsuit]