Actos Litigation On The Rise One Year After FDA Warning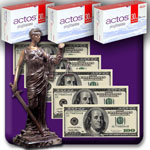 More than a year ago, on June 15, 2012, the FDA issued a public safety announcement warning of the risk of bladder cancer from Actos. According to the announcement, "use of the diabetes medication Actos (pioglitazone) for more than one year may be associated with an increased risk of bladder cancer."
Despite the warning, sales of the Type2 diabetes medication remain strong: Actos reportedly had worldwide sales of $4.8 billion in 2011.
However, Actos litigation is on the rise since the FDA issued its warning, as public awareness of the drug's risks has grown. The FDA warning has frequently been cited in lawsuits, since it provides confirmation that use of the drug leads to increased risk of bladder cancer. Thousands of lawsuits have been filed alleging bladder cancer from Actos. A number of them are consolidated at the federal level in an MDL in the U.S. District Court for the Western District of Louisiana, and at the state level in a mass tort in Illinois.
Study shows 40 percent increase in bladder cancer risk for Actos users
The FDA issued its warning after examining the five-year interim data from a planed 10-year cohort study involving 193,099 diabetes patients. The data showed that patients who took Actos for 12 months or longer had a 40 percent increased risk of developing bladder cancer.
In 2011, around the same time the FDA issued its warning, Actos (pioglitazone) was taken off the market in France and Germany after a French study showed increased risk of bladder cancer in patients taking the drug for more than 12 months. However, in the U.S., there has been no recall of the medication Actos.
Anniversary of warning does not mean time has run out for lawsuits
The anniversary of the FDA's warning does not in itself limit the opportunity to file Actos litigation. It is possible that the FDA's warning could potentially be used as the "starting point" for a statute of limitations, although this has not yet been established. But even if that proves to be the case, it should not affect current Actos litigation, nor cases filed in the near future, since few if any states have only a one-year statute of limitations. In addition, many variables come into play when determining exactly when a statute of limitations commences; the FDA warning alone does not automatically "start the clock" on such a period. It will be up to the courts to determine when such a statute of limitations would commence.
[SmartLink actoslawsuit]