Actos Wrongful Death Suit Sought by Plaintiffs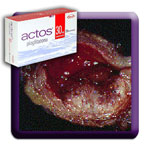 Three plaintiffs are seeking damages on behalf of their deceased mother from the drug maker of Actos, the type II diabetes treatment medication that has been linked to bladder cancer. The plaintiffs, her three sons, claim that their mother was diagnosed with bladder cancer and developed the condition as a result of her use of the medication. According to the lawsuit, the mother took the medication between 2004 and 2007 in order to help regulate her blood sugar levels as recommended by her doctor. This would help to control the type II diabetes she suffered from. She was diagnosed with bladder cancer in 2007 and the disease would ultimately claim her life. Her three sons are arguing that drug maker Takeda Pharmaceuticals is responsible for the death of their mother.
Lawsuit filed by Actos plaintiffs
The plaintiffs' lawyer claims that the drug maker did not adequately warn consumers or physicians about the link between Actos use, especially for 12 months or longer, and the risk of bladder cancer. Actos brings in a significant revenue for the defendant, pulling in $4.8 billion in revenue for the company in 2011 alone, which may be one of the reason Takeda wants to keep the risk of bladder cancer from Actos use under wraps. The plaintiffs claim that the decedent, their mother, suffered from severe pain and suffering as a result of her bladder cancer diagnosis, and that they themselves have experienced permanent injuries, including economic loss due to medical and living expenses associated with the death of the decedent.
The plaintiffs also claim in their Actos litigation that the decedent would never have taken the medication had she known about the serious risk of side effects associated with it.
FDA warning cited
A number of consumers nationwide have filed suit against Takeda after allegedly experiencing side effects associated with the medication. The Food and Drug Administration issued a Safety Announcement on the 15th of June, 2011, regarding that use of Actos for a year or more could be linked to an increased risk of bladder cancer.
[SmartLink actoslawsuit]