Adverse Events Lead to Hip Recall and Hip Revision Surgery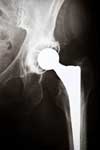 Upon their development, metal-on-metal hip implants such as the DePuy ASR were first marketed as being more long-lasting, flexible and durable than their metal-plastic/metal-ceramic counterparts. In the early years following their release patients reported complications requiring hip revision surgery and experienced DePuy hip failure. The complaints and resulting studies precipitated the DePuy hip recall in 2010 as the DePuy ASR was withdrawn from the market.
The number of events may be higher than reported
An FDA report states that nearly 17,000 adverse events were associated with metal-on-metal hip devices between 2000 and 2011. The majority involved revision surgery to remove the failing hip implant. Because many of the complications associated with these devices are never reported to the FDA, the numbers cited by the FDA are likely to be significantly lower than the actual number of problems suffered by patients.
Serious injuries lead to lawsuits
Thousands of patients have filed a lawsuit against the manufacturer of the ASR system seeking compensation for serious injuries incurred. The DePuy Pinnacle lawsuit was brought about when hundreds more sought counsel from a Pinnacle hip lawyer to bring claims against DePuy for injruies suffered by the Pinnacle all-metal hip implant.
The injuries that necessitate hip revision surgery include premature loosening, instability, difficulty walking, metal poisoning and premature loosening. These symptoms have been exhibited by patients who have been implanted with metal-on-metal systems from other manufacturers.
An FDA panel study and a decision not to ban
On June 27-28, 2012, as a result of the complaints, an FDA advisory panel met for two days of public hearings to evaluate the risks and benefits of metal-on-metal hip replacement devices with their recommendations expected to influence future FDA actions concerning these implants. In those meetings, the FDA discussed the following: potential required testing for metal ion blood poisoning (also known as metallosis); patient risk factors; imaging methods that should be employed for testing; review of the complications that may be caused by metal particles; failure rates of metal-on-metal hip replacement devices; and considerations for follow-up after surgery.
Critics have blamed the FDA fast-track 510(k) approval system. The approval system does not require physical tests which facilitated clearance of devices that had practically questionable safety protocols.
While the United Kingdom has released new safety guidelines helping doctors follow-up with patients that received the DePuy Pinnacle implant and DePuy ASR system. The UK guidelines provide suggestions on how to look for loosening, metal poisoning and tissue damage.
Even with the UK's decision to take a more proactive role in the DePuy products, according to a USA Today report, the FDA is not expected to ban these hip replacements.
[SmartLink depuyhiplawsuit]