Birth Defects Allegedly Related to Zoloft Prompt a Lawsuit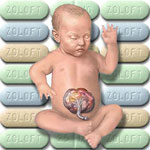 One of the oldest "selective serotonin reuptake inhibitors" or "SSRIs" on the market, Zoloft (sertraline hydrochloride), like other SSRIs is prescribed for the treatment of psychological conditions such as mood disorders, anxiety and depression. Though it is an effective treatment for depression, there is a growing consensus that Zoloft presents substantial risks for side effects resulting from Zoloft use when used by pregnant women. The drug has long been associated with a range of severe side effects that can impair fetal health and development. These include cardiac defects, craniosynostosis and other skull deformities, and developmental defects such as omphalocele, where the intestines and liver remain outside the abdomen.
According to studies, women who use Zoloft during pregnancy—especially during the third trimester—face a significantly higher risk of delivering an infant with birth injuries. The New England Journal of Medicine published a study in 2007 that found the risk of cardiac defects was 50 percent higher in infants exposed to Zoloft during gestation. Zoloft attorneys have alleged in their lawsuits that the drug's manufacturer Pfizer knew of these risks even before the FDA's 1991 approval of the drug, but failed to warn patients or medical professionals of the dangers of birth defects after Zoloft use.
Congenital birth defects and a lack of warning
A complaint was filed on behalf of a ten-year-old child who was born with congenital birth defects due to exposure to Zoloft while in the womb. The minor child, only identified as "G.S." in court papers, was born on June 21, 2002, to Christa Yazzie. The mother and child are Arizona residents. They chose to file a birth defects lawsuit on June 27, 2012, in the U.S. District Court for the Eastern District of Philadelphia. The complaint alleges that Yazzie was never warned that using Zoloft during her pregnancy could injure her child.
According to Yazzie's lawyer, Pfizer's own preclinical animal studies (conducted prior to FDA approval) demonstrated significant fetal harm, including cardiac malformations and increased mortality.
100 lawsuits join an MDL with more expected
The suit was filed in federal court in Pennsylvania in spite of Yazzie and her child being residents of Arizona because that is the venue for the multidistrict litigation over birth defects after Zoloft use . Since its creation in April of 2012, an estimated 100 lawsuits have joined the MDL. The MDL is still in its early stages and in the coming months, court watchers expect more cases will join. District Judge Cynthia M. Rowley is overseeing the MDL and the first scheduled conference is on July 12, 2012.
[SmartLink zoloftlawsuit]