Birth Defects Outlined in Zoloft Lawsuits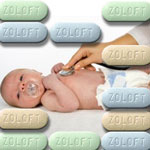 Zoloft has been approved by the United States' Food and Drug Administration as an antidepressant since 1991. The drug, manufactured by Pfizer, is one of the most commonly prescribed medications used in the treatment of psychological illnesses, and acts as a blocker that prevents the reuptake of the feel-good chemical serotonin in the brain. This can help boost a patient's mood and can be beneficial for patients who are suffering from depression, anxiety, and other serious but common mood disorders. However, if taken by pregnant women, it has been linked to serious birth defects in children, which many patients claim was not warned about in initial drug packaging warnings.
PPHN a serious birth defect
Zoloft persistent pulmonary hypertension is a side effect that can be particularly serious. It results when a baby's circulation system doesn't adapt to existence outside the womb, which can result in high blood pressure in the lungs. Women who took SSRI antidepressants such as Zoloft after the 20th week of pregnancy are about six times as likely to give birth to babies suffering from PPHN.
The Food and Drug Administration released an informational update in July of 2006 warning patents about the risk of PPHN as a side effect of the medication. About five years later, in December 2011, the FDA issued an updated warning, which reported that their review of new study results showed conflicted information about birth defects linked to Zoloft, specifically PPHN as a birth defect related to Zoloft use by a pregnant mother.
Lawsuits filed by parents
Parents of children who have suffered from Zoloft birth defects and other side effects related to the antidepressant medication are likely to file suit against the manufacturer of the medication, Pfizer. Heart defects, PPHN, and other serious birth defects have all been cited in cases dealing with Zoloft side effects. These parents are hoping to win compensation that could help pay their child's medical bills. A number of lawsuits have been consolidated in a multidistrict litigation case in the United States' District Court for the Eastern District of Pennsylvania.
[SmartLink zoloftlawsuit]