Durom Cup Has Higher Than Predicted Failure Rate, Claims Plaintiff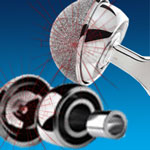 The Durom cup device has come under fire from California plaintiff Troy Williams who has recently joined the ongoing litigation against device maker Zimmer Holdings, Inc. Williams filed his lawsuit on April 30, 2012. He became involved with Zimmer hip litigation initially in the United States' District Court for the Eastern District of California, but the claim was soon transferred to the multidistrict litigation (MDL) in the District of New Jersey on the 13th of June, 2012. Williams claims that he was implanted with the allegedly defective Zimmer Durom Cup hip replacement device and experienced severe complications soon thereafter. He also claims that the actual failure rate of the device that was observed between 2006 and 2010 was about four times higher than the predicted failure rate put forth by the device manufacturer.
Zimmer hip replacement problems claims
Williams claims in his lawsuit that he underwent total hip replacement surgery in his right hip on the 19th of January, 2007.  He received the Zimmer Durom Cup hip replacement system. During the summer of the next year, sales of the device were temporarily suspended as the device manufacturer investigated claims of premature loosening and failure of the hip replacement device. About a year after he was implanted with the Durom Cup, Williams began to experience hip problems, including shortening of his right leg, stiffness, immobility, and severe pain.
According to Williams' Zimmer hip attorney, the hip continues to deteriorate and Williams experiences ongoing pain to this day. Williams' doctors are currently evaluating whether or not he will need to undergo Zimmer hip revision surgery.
Failure rates high in Zimmer devices
The Food and Drug Administration approved the device through the fast track approval process in March of 2006, requiring no clinical trials. Although Zimmer predicted a failure rate of 5.7 percent between 2006 and 2010, some experts estimate the rate to be closer to 24 percent.  Though Zimmer strongly denies such claims, more individuals are adding their claims to the steadily growing litigation.
[SmartLink zimmerhiplawsuit]