Illinois Actos Lawsuit Alleges Bladder Cancer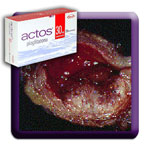 As more patients file an Actos lawsuit, claims against manufacturer Takeda Pharmaceuticals are growing. Among the most prevalent is the allegation of a link between Actos and bladder cancer – a concern shared by the Food and Drug Administration (FDA). On June 22, 2012, Lloyd Atkinson became the latest plaintiff to file against Takeda; Plaintiff Atkinson alleges that the developed bladder cancer after taking the diabetes medication from 2004 to 2011. His case was filed in the Circuit Court of Cook County, Illinois.
Patient chose to file an Actos lawsuit after developing bladder cancer
In his complaint, Atkinson states that he took Actos, a drug to treat type II diabetes, for seven years according to his doctor's orders. Notably, the link between Actos and bladder cancer was not officially recognized until 2011, when the FDA issued an update to a 2010 Safety Announcement. However, the plaintiff alleges that Takeda Pharmaceuticals was aware of the risks associated with prolonged use (12+ months) of Actos, but chose to conceal these dangers from the medical community and the public.
Actos is one of Takeda's best-selling drugs, accounting for 27% – a staggering $4.8 billion – of the pharmaceutical company's revenue in 2011. After being diagnosed with bladder cancer, Atkinson chose to file an Actos lawsuit to seek damages and compensation for his pain and suffering. He states that had he understood the dangers and life-threatening severity of side effects resulting from Actos, he would never have taken the medication.
Studies link Actos and bladder cancer
In 2005, a study into the cardiovascular dangers associated with Actos revealed a risk of bladder cancer. Among the researchers' findings, they discovered that prolonged use of the drug resulted in a statistically significant increase in the development of bladder cancer. In 2010, the FDA stated via a Safety Announcement that it would look into various studies linking Actos and bladder cancer; in 2011, the agency issued a follow-up to warn consumers that use of Actos for prolonged periods of time could increase a patient's risk of bladder cancer. In fact, subsequent studies reveal that a patient's risk may climb as high as 40%, for those who have taken Actos for at least one year.
France issues recall for Actos
In 2011, as public knowledge of Actos bladder cancer grew, there was an Actos recall in France. However, as of 2012, Takeda has not issued a similar recall to protect patients in the United States.
[SmartLink actoslawsuit]