Judge Issues Order to Proceed with Discovery in Vaginal Mesh MDL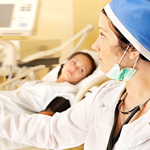 On June 14, 2012, Chief District Judge Joseph R. Goodwin, who presides over the U.S. District Court for the Western District of West Virginia, issued a pretrial order to proceed with discovery processes in the transvaginal mesh lawsuit MDL. In laymen's terms, this means that lawyers for the plaintiffs, who allege a variety of vaginal mesh problems, are now able to request evidence, documentation and other paperwork from product manufactures and defendant companies.
Discovery to seek evidence of vaginal mesh problems
True to name, discovery is a legal term for the pretrial process of "discovering" evidence from the opposing party. In this case, Judge Goodwin has authorized vaginal mesh attorneys to seek depositions, interrogatories (fact-gathering questionnaires), and other supporting documentation from vaginal mesh manufacturers and other named defendants. Judge Goodwin's order is a very important step for the MDL, as it allows counsel to prepare for the first trials.
Judge presides over four transvaginal mesh lawsuit MDL's
Judge Goodwin will preside over several transvaginal mesh lawsuit MDL's – those against American Medical Systems, Boston Scientific, C.R. Bard, and Ethicon. While Judge Goodwin has been assigned to the C.R. Bard MDL since 2010, it was not until 2012 that the other three were consolidated and appended to his court docket. The four MDL's consolidate cases from thousands of women, and currently number 333 against AMS, 182 against Boston Scientific, 411 against C.R. Bard, and 253 against Ethicon. MDL numbers are growing fast, and this rapid rate is not expected to decrease in the near future.
Vaginal mesh attorneys cite range of complications
MDL plaintiffs allege several vaginal mesh problems, among them pelvic organ prolapse and stress urinary incontinence aggravated by vaginal mesh. Additionally, women report chronic infection, bleeding, vaginal scarring, severe discomfort, and pain during intercourse. For some, what was meant to be a solution to their problems results in device erosion – deterioration of the implant – or extrusion, in other words, dislocation of the implant to such a point that it protrudes into the vaginal canal. In the worst of cases, women allege that their defective implants cannot be completely removed, even after multiple surgeries.
[SmartLink vaginalmeshlawsuit]