Lawsuit Blames Actos Bladder Cancer for Father's Death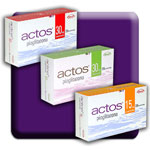 A lawsuit filed by two adult siblings alleges that their father died of bladder cancer resulting from Actos  use.The lawsuit names as defendants Takeda Pharmaceuticals, et al., along with Eli Lilly and Company.
The suit was filed on July 3, 2012 in the Superior Court of the State of California (Los Angeles) by Michael Dendo and Sandra D. Miller, individually and as Successor in Interest to the Estate of Albert U. Dendo.
Plaintiffs' father took Actos for four years
According to the lawsuit, Albert Dendo took Actos for four years, from 2006 to 2010, and as a result suffered side effects of Actos, including the bladder cancer that led to his death on December 28, 2011. The plaintiffs state that Actos caused Albert Dendo to suffer pain, permanent personal injuries, physical injury and bodily impairment, bladder cancer that spread to other organs, bladder surgery, and bladder failure.
On June 15, 2011, the FDA issued a public warning about the risk of bladder cancer resulting from Actos use, which stated that "use of the diabetes medication Actos (pioglitazone) for more than one year may be associated with an increased risk of bladder cancer." The warning was issued after the FDA evaluated the five-year interm data of a planned 10-year cohort study of 193,099 diabetes patients. The interim results found that patients who used Actos for more than 12 months had a 40 percent increased risk of developing bladder cancer.
Defendants held liable for negligence and failure to warn
The plaintiffs hold the defendants liable for failure to warn patients and doctors of the drug's risks. They allege that before the FDA approved Actos in 1999, Takeda and Eli Lilly knew, or should have known, that Actos could cause bladder cancer. To bolster this claim, the lawsuit cites Actos carcinogenicity studies and additional pre-clinical evidence that allegedly made Takeda aware of the link between the diabetes drug and bladder cancer.
In addition to the count of failure to warn, the lawsuit brings counts of defective design, strict liability, breach of implied warranty, wrongful death, deceit by concealment, negligent misrepresentation, and violation of California Business & Professional Codes.
As in other Actos lawsuits, the plaintiffs seek compensation for pain and suffering, medical expenses, funeral expenses, loss of society and general damages. They point out that due to their father's untimely death, they will forever be deprived of his love, comfort, companionship, society, affection, solace, and moral support.
[SmartLink actoslawsuit]