Lawsuit Claims Child's Gallbladder Was "Destroyed" By Yaz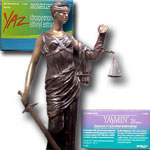 A new lawsuit claims that after ingesting the contraceptive Yaz, the plaintiffs' minor child suffered gallbladder disease that destroyed her gallbladder, as well as a ruptured cyst on one of her ovaries, "disregulation of her nervous system and other body systems," and other side effects resulting from Yaz. The lawsuit against Bayer Corporation was filed by plaintiffs Richard and Carol Browne on behalf of of their daughter, referred to in court papers as C.A.B., on July 3, 2012 in the U.S. District Court for the Southern District of Texas in Galveston.
Lawsuit added to MDL
Although the lawsuit was filed in Texas, it is slated to be removed to the Yaz MDL in the U.S. District Court for Southern District of Illinois. The Yaz MDL, which is being overseen by Judge David R. Herndon, consolidates all federal lawsuits involving complications from the contraceptive, including blood clots, deep vein thrombosis, gallbladder disease, stroke, and pulmonary embolism. Learn more on Yaz side effects.
Judge Herndon appointed Stephen Saltzburg, a professor at George Washington Law School, as a Special Master to act as mediator between the plaintiffs and Bayer. As of June 2012, Professor Saltzburg had helped to negotiate a total of $142 million in Yaz settlements, including a $110 million settlement for 500 lawsuits.
Some experts predict that Bayer may ultimately pay up to $2.65 in Yaz settlements. However, this figure refers to settlements of lawsuits involving blood clots or deaths, not gallbladder disease as in the Brownes' case. Bayer currently maintains that Yaz does not cause gallbladder disease, and the company's attorney has stated that "At this point, they've said they don't anticipate settling any of the gallbladder cases."
Plaintiffs hold Bayer liable for child's injuries
The Brownes hold Bayer liable for their daughter's injuries. In their lawsuit, their Yaz attorney states that "The child's gall bladder was destroyed causing her months of pain and discomfort and causing her to have to undergo surgery to remove her gall bladder, suffering severe and personal injuries, physical pain and mental anguish, diminished enjoyment of life, medical, health, incidental and related expenses, and the fear of developing any of the above named health consequences."
The lawsuit alleges strict products liability, inadequate warning, design defect, negligence, breach of express and implied warranties, fraudulent misrepresentation, and violation of the Texas Deceptive Trade Practices Act.
In the U.S., more than 12,000 lawsuits involving Yaz and Yasmin have been filed by 14,000 plaintiffs.
[SmartLink yazlawsuit]