Metal Implants Shown to Cause Complications From Inflammation to Possible Cancer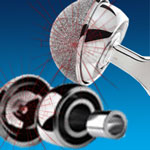 True to name, metal-on-metal hip implants are comprised of separate metal components that fit together to create an artificial hip joint. To determine the effects of metal-on-metal friction, as when two joint components rub against each other, researchers used high-resolution X-ray machines and electron microscope technology to study tissue samples from metal-on-metal implant recipients.
Among other conclusions, they found oxidized (rusted) chromium residues in patients who had suffered inflammation; the rusting metal was releasing cobalt ion nanoparticles, thereby causing inflammation and tissue damage.
Notably, researchers stated that the nanoparticles are genotoxic, and could lead to cancer and other serious health complications in the future.
A new study shows potentially serious future problems
Researchers from Ohio State University and the Imperial College London recently joined forces to publish a new study in the Chemical Communications medical journal. The results revealed that metal-on-metal hip implants may leave microscopic cobalt residue in patients, causing inflammation, pain, and other symptoms of metallosis (heavy blood poisoning).
Furthermore, researchers concluded that the nanoparticles are genotoxic which means that they can damage human DNA. For those already suffering life-altering complications from DePuy hip replacement, the possibility of serious future problems can be devastating.
Legal action is considered for hip complications
Some patients suffering from serious hip complications have sought compensation through a legal judgment or a DePuy settlement. The complications can entail serious medical expenses, lifestyle changes, and costly treatments. Manufacturer Johnson & Johnson and subsidiary DePuy have faced allegations of inadequate research and testing of their hip implants, including the Pinnacle and ASR models, both of which have allegedly been linked to higher-than-average failure rates.
Those experiencing problems with either device have contacted an attorney to inquire about joining the thousands of plaintiffs who have already filed complaints seeking compensation for DePuy hip injuries.
Hip revision surgery is sometimes the only recourse
For patients suffering from excess metal debris, metallosis, or related issues, often the only recourse is to undergo hip revision surgery. This is a serious concern for patients with DePuy ASR hip complications, as revision surgery is riskier than the original procedure, and can lead to chronic pain, permanent injury, and a lifetime of mobility problems.
A British registry of hip complaints recorded a 13% failure rate—higher than industry standards—for DePuy's ASR product line. In 2010, worldwide complaints preceded the hip recall, which included an estimated 93,000 units around the globe.
Most recently in the United States, an FDA advisory committee cautioned all metal-on-metal hip implant recipients to conduct annual imaging testes to verify implant functionality. Furthermore, the committee recommended that any hip patient suffering inflammation or discomfort should have annual blood tests to scan for heavy metal buildup.
[SmartLink depuyhiplawsuit]