Michigan Woman Files DePuy Pinnacle Lawsuit Over Alleged Complications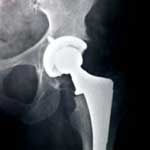 In her Pinnacle hip replacement lawsuit, plaintiff Glennie Faulkner of Michigan alleges that she was forced to undergo revision surgery after the failure of her Pinnacle implant. Faulkner filed her lawsuit on July 11, 2012 in the U.S. District Court for the Eastern District of Michigan.
According to her lawsuit, on July 22, 2003, the patient underwent a total hip replacement of her right hip. During the surgery, portions of her own natural bone were removed and replaced with an artificial DePuy hip joint, the components of which included the Pinnacle Marathon Acetabular Liner, Pinnacle Sector II Acetabular Cup, Apex ™ Hole Eliminator, and DePuy S-ROM Femoral Head.
Problem with locking mechanism allegedly led to need for revision surgery
After her surgery, the plaintiff states that she began to suffer complications due to implant loosening, including severe pain, hip dislocations, and loss of mobility. The lawsuit alleges that the problems were caused by a defect in the locking mechanism of the hip joint, and that the acetabular liner and the acetabular cup prosthesis were negligently designed "in such a manner that the locking mechanism would not withstand reasonably foreseeable forces."
The failure of the Pinnacle joint's locking mechanism can lead to the separation of the acetabular liner and the acetabular cup, which are the components that with within the "socket" part of the hip joint. This in turn can cause the metal femoral head to grind directly onto the metal acetabular cup, with no liner to ease the friction. That friction can then cause metal debris to rub off, causing implant loosening and/or metallosis.
Due to her hip implant failure, Faulkner was forced to undergo revision surgery to repair the damage to her hip joint and remove the components which had failed. The revision surgery took place in May 2012.
Plaintiff seeks damages for pain and suffering, medical expenses
In her lawsuit, Faulkner seeks compensation for past and future pain and suffering, past and future loss of wages, past and future medical expenses, earning impairment, additional medical procedures, permanent injuries and impairment, mental anguish and distress, and loss of enjoyment of life.
[SmartLink depuyhiplawsuit]