Pinnacle Hip Is Said To Detach Causing Pain and Revision Surgery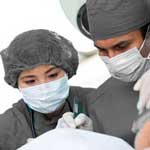 According to her complaint filed on July 3, 2012 in the Superior Court of the State of California, County of San Francisco, Vickie Elson was implanted with the DePuy Pinnacle System in her right hip in July of 2007. Her DePuy hip attorney filed the case for Elson and her husband Richard Elson. In it, Elson claims her hip implant's acetabular cup eventually detached, causing significant pain and loss of mobility. On June 18, 2012, she underwent a revision surgery to repair the damage and replace her implant.
It is alleged in the complaint that DePuy marketed the Pinnacle hip replacement system without warning consumers or medical professionals of its known defects.
Revision surgeries often require the removal of large amounts of the patient's tissue and bone that was damaged by the device failure, further complicating successful joint replacements and exacerbating mobility problems. Research suggests that failures across all types of all-metal implants may be caused by the release of toxic metal debris, which can destroy surrounding bone and tissue, enter the patient's bloodstream, cause metal poisoning after DePuy hip implant failure, infections and lead to further health complications.
The Pinnacle remains on the market
The Pinnacle System remains on the market and Elson claims it suffers from the same design defects as the DePuy ASR hip system which was subject to a DePuy implant recall. Sales of the ASR were suspended in August of 2010. Elson alleges that the Pinnacle System, like the ASR, has "aberrant and high rates of loosening, failure, design defects, manufacturing defects and dangerous metal debris release." Those defects often require patients to undergo painful revision surgeries where some or all of the Pinnacle components are removed from the joint and replaced with new components.
A large profit center
It is also alleged in Elson's complaint that the company has received over 2,500 reports of Pinnacle hip failures to date. Furthermore, it says that DePuy and manufacturer Johnson & Johnson have been reluctant to withdraw the Pinnacle from the market because it has been a profit center for the company. The estimation is that $5.4 billion in sales were generated from the Pinnacle in 2009 alone.
Many court watchers are speculating as to whether some of those profits may eventually be used for settlement payments for the DePuy hip.
Richard Elson is claiming loss of consortium and Vickie Elson is seeing compensatory and punitive damages against DePuy and Johnson & Johnson, The eight-count complaint includes causes for action for fraud, negligence and strict liability. They've requested a jury trial.
[SmartLink depuyhiplawsuit]