Plaintiff Needed Revision Surgery on Both Knees After Zimmer Knee Implants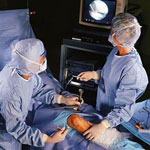 A new lawsuit in the Zimmer MDL charges that Massachusetts resident Kathleen Drago was forced to undergo double Zimmer knee revision surgery after the failure of NexGen CR-Flex devices in both her left and right knees.
The lawsuit was filed against Zimmer, et al. on July 6 by Kathleen and her husband Ronald Drago in the U.S. District Court for the Eastern District of Missouri. In filing their lawsuit, the plaintiffs used the short form complaint used for MDL cases.
According to their complaint, Kathleen Drago underwent surgery on July 6, 2009 during which she was implanted with Zimmer NexGen CR-Flex in both of her knees. Shortly thereafter, she started to experience pain, implant loosening, and other Zimmer knee problems, and ultimately went through knee revision surgeries on May 24, 2010 and August 5, 2010 on her respective knees.
Plaintiffs allege negligence and failure to warn
In their lawsuit, the plaintiffs bring counts of negligence, failure to warn, design defect strict liability, breach of express warrantly, manufacturing defect, negligent misrepresentation, unjust enrichment, violation of consumer protection statutes, and loss of consortium. They seek compensation for Kathleen Drago's pain and suffering, and forced revision surgeries, legal costs, and other damages, as well as punitive damages.
In making their case, the plaintiffs argue that despite exercising due diligence, neither Kathleen Drago nor her doctor could have known that the NexGen CR-Flex implant was allegedly defective any sooner than they did.
MDL consolidates lawsuits over five Zimmer NexGen devices
The Zimmer knee MDL was established in the U.S. District Court for the Northern District of Illinois to consolidate lawsuits involving five Zimmer NexGen knee models: the CR-Flex, the LPS-Flex, the GSF LPS-Flex, the GSF CR-Flex, and the MIS Tibia. The purpose of an MDL is to consolidate similar lawsuits into one litigation in order to streamline the legal process by avoiding duplicate proceedings and potentially conflicting pretrial rulings.
Although Zimmer has not issued a recall of the NexGen line, in 2010 the company did issue limited recalls of certain components used in the MIS Tibia and femoral components used in the LPS-Flex.
[SmartLink zimmerkneelawsuit]