Problems With the AMS Transvaginal Mesh System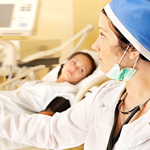 Originally approved by the FDA in 2004, the American Medical Systems (AMS) transvaginal mesh system is sold to assist women who have experienced vaginal vault prolapse, stress urinary incontinence (transvaginal mesh implant to treat SUI), and pelvic organ prolapse, which tend to occur as a result of pregnancy and childbirth.
The AMS device was approved under the FDA's 510(k) approval process, bypassing rigorous testing methods because the manufacturers can show that the device is "substantially equivalent" to other devices currently on the market. Therefore the device did not undergo standard safety review. Additionally, the FDA noted that it is not clear that the mesh is more effective than non-mesh alternatives.
Documented transvaginal mesh problems include pain during intercourse, blood loss, neuropathic and other acute and chronic pain, and pudenal nerve damage. Oftentimes, such complications require corrective surgery.
A plaintiff files a lawsuit against AMS
In a new lawsuit against AMS, a plaintiff alleges she experienced extreme pain, erosion of tissue, dyspareunia, and other injuries she suffered as a result of her SPAPC Sling System implant, which she received in 2008.
After consulting with her doctor, the plaintiff elected to have the sling implanted in order to help correct issues associated with pelvic organ prolapse and stress urinary incontinence. According to the lawsuit, the plaintiff experienced severe transvaginal mesh problems due to the defective nature of the sling.
The case was filed on March 29, 2012 in the U.S. District Court, Northern District of California. The plaintiff is seeking damages claims of strict liability, negligence, breach of implied and express warranties, fraud and negligent misrepresentation, among others. In the complaint filed by her vaginal mesh lawyers, the plaintiff says that she would not have had the implant had she known the risks associated with such implants.
The FDA issues a notification
In 2008, the FDA issued a Public Health Notification showing that transvaginal mesh devices were responsible for more than 1,000 adverse events. In 2011, the FDA cited that such devices should be of "continuing serious concern," and that transvaginal mesh problems were "not rare." Problems reported by patients include bleeding, infection, mesh erosion, extrusion of the device into the vaginal canal, and pain during sexual intercourse.
Despite these numerous complaints, the FDA has not issued an official vaginal mesh recall at this time.
[SmartLink vaginalmeshlawsuit]