Stryker Recalls Two Metal Hip Components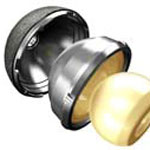 On July 6, 2012, Stryker Orthopaedics issued a voluntary recall of two components of its metal-on-metal hip implants. The components affected are the Rejuvenate and ABG II modular-neck stems.
FDA has received more than 45 complaints over Rejuvenate in 2012
The company announced the Stryker Rejuvenate recall in response to adverse event reports and post-market data. In the first seven months of 2012, the FDA received more than 45 complaints of complications from the device.
In a statement, the company said that it was recalling the components "because there is a potential for fretting and corrosion at the modular neck junction which may lead to adverse local tissue reactions."
The mention of "local tissue reactions" may be a reference to metallosis, which can occur when friction, fretting, or corrosion causes metal particles from an implant to be released into the patient's body. These particles can damage tissue or bone, or get into the patient's bloodstream.
Stryker previously issued 2008 hip recall
This is not the first recall issued by Stryker Orthopaedics. In 2008, the company issued a recall of components in its Trident line of hip implants after numerous reports of complications from Trident hips. Many patients who suffered problems from these hip components went on to sue the company. Close to 175 lawsuits over Trident hip implants have been centralized in New Jersey.
The Rejuvenate hip replacement system was introduced in 2010 and quickly became one of Stryker's bestselling joint-replacement products, helping to increase the company's sales by 13%, resulting in overall company revenue of $8.3 billion in 2011. But as with other metal-on-metal hip replacement devices, the Rejuvenate was approved via the FDA's fast-track 510(k) process, and thus was not required to undergo clinical trials to prove that it was safe. Problems such as fretting and corrosion at the joint, which could potentially cause implant loosening or metallosis, did not come to light until after patients had been implanted with the devices and began to experience these complications firsthand.
As with the Stryker Trident recall, it is likely that the recall of Rejuvenate and ABG II components will spark a new round of lawsuits against the company.
[SmartLink strykerhiplawsuit]