Studies Link Actos To Bladder Cancer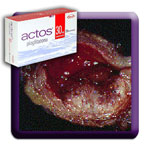 Following an FDA safety announcement regarding Actos in summer 2011, the French Medicines Agency suspended sales of the drug and, later that summer, manufacturer Takeda implemented a recall of Actos in France. It was about that time that patients began seeking legal advice in an effort to hold Takeda liable for their injuries.
The FDA safety announcement that preceded the French action was released on June 15, 2011. In it patients and physicians were warned of the potential link between the diabetes drug Actos with bladder cancer. At the time, the agency based their statement on the results of an ongoing epidemiological study that found an increased risk in those using the drug for more than a year, and for those using the highest doses.
A Canadian study shows a raised risk of bladder cancer
In the latest analysis of study results, the Canada Research Chair in Diabetes Health Outcomes, the lead author Jeffrey A. Johnson and his colleagues reviewed the data from ten studies on drugs like Actos (called "thiazolidinediones"). Participants in the study totaled 2.6 million, with 3,643 diagnosed with bladder cancer. Overall, the researchers found that Actos increased the risk of bladder cancer by 22 percent.
The Canadian analysis of previously published studies confirms the link, concluding that taking Actos raised the risk of bladder cancer by about one-fifth. The study was published in the July 3, 2012 issue of the Canadian Medical Association Journal.
Other studies and a theory of why Actos may cause bladder cancer
These study results come on the heels of another study published in the May 31, 2012 issue of the British Medical Journal. In that study on bladder cancer and Actos, researchers at McGill University in Montreal tracked over 115,000 patients, and found that those taking Actos for more than two years doubled their risk of bladder cancer.
In addition, they reported that type II diabetes patients using Actos were at an 83 percent higher risk of the disease than those who had never taken the medication. They added that these results were specific to Actos, as Avandia—another similar diabetes drug—didn't result in an elevated risk.
Actos attorneys are likely to use these studies to support claims made in their filings. Researchers aren't sure why Actos may increase the risk of bladder cancer, but they have a theory according to some animal studies. Actos may potentially open the door to cancer development by causing crystals to form that may irritate the bladder.
[SmartLink actoslawsuit]