Study Results Show Yaz May Cause Irritable Bowel Syndrome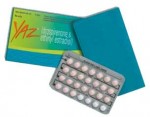 The risk of blood clots, stroke, pulmonary embolism, and deep vein thrombosis from Yaz and Yasmin has been well-established. But now a new study finds yet another potential side effect of the controversial contraceptives: irritable bowel syndrome.
Women on Yaz developed IBS in higher numbers than those on other birth control
The study, which was published by the University of British Columbia, looked at almost a million women aged 18 to 46 to determine how many were diagnosed with irritable bowel syndrome within 90 days of using Yaz vs. other forms of birth control. The study found that .77% of women using Yaz were diagnosed with IBS within 90 days of using the pills, whereas only .46 of women using other contraceptives were diagnosed with IBS within 90 days of using them. Although in both groups, the total number of women diagnosed with IBS was less than 1 percent of the total, the women in the Yaz group were almost 75% more likely to develop IBS than those using other contraceptives, a statistically significant difference.
IBS causes chronic bowel problems such as discomfort, bloating, abdominal pain, diarrhea, and constipation. These unpleasant problems can come on suddenly and unexpectedly, causing difficulties in the sufferer's daily life.
Yaz and Yasmin under fire for life-threatening side effects
Yasmin was first approved by the FDA in 2001, followed by the updated version Yaz in 2006. Both versions contain drospirenone, which has since been shown to cause blood clots. This in turn can lead to life-threatening complications including stroke, pulmonary embolism, and deep vein thrombosis. Deep vein thrombosis can cause pain, swelling, and limb ischaemia (oxygen deprivation in the leg), which can lead to leg ulcers, infections, and gangrene.
An FDA-commissioned study of 835,000 woman found that women who used contraceptives containing drospirenone have twice the risk of developing blood clots as women who use other forms of birth control. However, despite that known risk, the FDA voted to keep Yaz on the market, while strengthening the warning on the label.
Thousands of women who have suffered such complications have hired Yaz lawyers and sued manufacturer Bayer, alleging that the company failed to adequately warn patients and doctors of the contraceptives' risks. In Illinois, 6,600 of these lawsuits have been consolidated into a multidistrict litigation under Judge David Herndon.
[SmartLink yazlawsuit]