Texas Plaintiffs Seek DePuy Compensation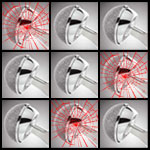 A Texas couple is seeking compensation for DePuy hip replacement system-related injuries after adopting the master short form complaint against device manufacturer DePuy Orthopedics. The plaintiffs filed suit after the wife received a DePuy ASR hip implant on her left hip on the 17th of July, 2007. After she underwent the surgery, she experienced complications, including pain and metallosis. The couple is hoping to win compensation for DePuy injuries as well as the financial and emotional losses they have suffered as a result of the experience.
DePuy hip recall
DePuy issued their DePuy hip implant recall in 2010 after a number of patients reported side effects and complications associated with some of their hip replacement devices. The company issued the recall after unreasonably high failure rates were revealed with regard to the ASR Hip Resurfacing System and the ASR XL Acetabular System. Plaintiffs and patients complained of loosening, failure, and metal poisoning associated with the hip replacement systems; however, it is believed that more than 90,000 Americans were recipients of these hip replacement devices before they were pulled from the market.
Metal poisoning is one of the side effects mentioned in lawsuits. It occurs when the metal-on-metal components that rub up against one another, causing metal particles to enter the bloodstream.
DePuy hip settlement sought by plaintiffs
The plaintiffs in this case filed their lawsuit on the 13th of June, 2012. The claim joins other federal claims joined in multidistrict litigation in the United States' District Court for the Northern District of Ohio, Western Division. Plaintiffs commonly charge DePuy with negligence, misrepresentation by omission, failure to warn, and fraudulent concealment, among other charges.
[SmartLink depuyhiplawsuit]