The FDA Orders a Recall of NaturaLyte and GranuFlo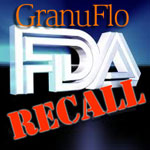 After the FDA received an anonymous internal memo citing a high number of instances of cardiac arrest linked to NaturaLyte and GranuFlo, the FDA issued an investigation into the manufacturer, a German company called Fresenius. According to the memo, some doctors were not taking into account that the products contained higher levels of the substance that converts into bicarbonate than competing products, and were therefore prescribing and using the products at levels too high for human consumption.
The heightened levels of bicarbonate in the blood stream were leading to a high rate of cardiac arrest. The FDA then issued a recall due to severe GranuFlo and NaturaLyte side effects, noting that the products and associated complications could cause serious health issues, including death.
The internal memo received by the FDA specifically noted that errors in dosing sometimes occurred when clinicians replaced NaturaLyte liquid Acid Concentrate with GranuFlo Dry Acid Concentrate, as the products often required different dosages that the clinicians failed to take into account.
A class I recall—the highest level—is administered by the FDA
NaturaLyte Liquid Acid Concentrate and NaturaLyte GranuFlo Dry Acid Concentrate are similar compounds used in kidney dialysis treatments. Because of side effects such as a heart attack after using GranuFlo or NaturaLyte, the FDA has issued a Class I recall, the highest-level recall the FDA administers, for both products.
Patients who have experienced injury due to GranuFlo and NaturaLyte side effects may be eligible to file individual litigation or even a GranuFlo class action lawsuit against the manufacturer.
A GranuFlo class action lawsuit may be imminent
Because possibly as many as 350,000 people were using NaturaLyte and GranuFlo the time of the recall, and because additional patients who many no longer be receiving dialysis treatments may be affected as well, it is possible that a NaturaLyte or GranuFlo class action lawsuit could be imminent in the future. As more people come forward to GranuFlo lawyers to report injuries as a direct result of their NaturaLyte and GranuFlo treatments, investigation into any wrongdoing by Fresenius will continue, and it is expected that many people will wish to seek relief via litigation.
NaturaLyte and GranuFlo are both manufactured by Fresenius, which also runs a leading series of kidney dialysis clinics worldwide. NaturaLyte is the liquid form of the product, and GranuFlo is the powder form, which is meant to be administered in a slightly different dosage.
The products, when mixed with other substances, can be placed into a patient's blood stream, whereby the substance will turn into bicarbonate. The products can then help people who have kidney issues by cleaning the blood in the way that the kidneys typically would. Frensenius clinics serve approximately one-third of the country's 400,000 dialysis patients, and according to RDWeb, a site focused on reporting on kidney dialysis, an estimated 125,000 patients
[SmartLink granuflolawsuit]