A Case Against Stryker Hip Will Be Heard In Federal Court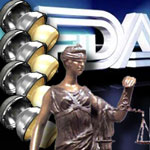 A case of Stryker hip litigation, originally filed in the Court of Common Pleas in Allegheny County, will be heard in federal court in the United States District Court for the Western District of Pennsylvania.
Joseph Feldkircher filed suit after experiencing pain and stiffness in his Stryker Trident Acetabular implant that had been placed in his left hip. He and his wife Beverly are both listed as plaintiffs in the case, with Beverly Feldkircher alleging that her husband's implant deprived her of his society, services, comfort and companionship, and that they will continue to pay costs associated with his medical care.
Stryker hip problems date back to 2007
According to the complaint submitted by his lawyer, the plaintiff began experiencing pain and stiffness soon after having the device implanted into his left hip, and did not know the cause of his sensations until his physician's assistant told him that the device was implicated in a recall of the Stryker Trident hip. It was only then that he had the device removed, which required him to undergo total hip revision surgery.
Issues concerning the Stryker Trident hip date back to early 2007, when the FDA first issued a warning letter citing safety concerns associated with the device. The letter noted several violations at the company's Cork, Ireland manufacturing plant.
Later that year, the FDA issued another warning letter after clusters of the bacteria Staphylococcus (Staph) were discovered throughout a plant in Mahwah, New Jersey. This, paired with complaints that the device was causing popping and clicking sounds in many people, was enough to cause Stryker to issue a recall for parts used in conjunction with the Trident system.
Plaintiffs seek compensation for multiple complaints
Some people who have been harmed due to defective Stryker hip implants have sought the assistance of an attorney to provide the services needed to assist them in the litigation process. To date, some qualifying Stryker lawsuit proceedings have been centralized in the New Jersey Superior Court in Atlantic County.
This particular case was removed from its original filing location in accordance with the defendants' motion after finding that the case meets diversity of citizenship requirements and that the amount in controversy exceeds $75,000. The plaintiffs are seeking compensation based on claims of negligence and strict liability, in addition to loss of consortium.
[SmartLink strykerhiplawsuit]