A New Case Joins the Illinois MDL Against Yaz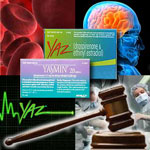 An Illinois multidistrict litigation (MDL) was created in an effort to quickly and effectively reach a resolution in hundreds of cases in which plaintiffs have taken the steps necessary to receive compensation for Yaz injuries. Recent reports suggest that the manufacturer of Yaz and Yasmin, Bayer, has reached a settlement in at least 1,444 cases filed by those suffering after deep vein thrombosis from Yaz, stroke, and other side effects resulting from blood clots. Despite these settlements, an estimated 14,000 cases against Bayer are pending.
Good faith negotiations continue in the Illinois MDL. On April 19, 2012, Chief Judge David R. Herndon gave the parties another 90 days to work on negotiations regarding the possibility of more settlements in the lawsuits.
A Minnesota resident joins the Illinois MDL
Minnesota resident Cathy Wagamon, after allegedly suffering from a pulmonary embolism from Yaz, is now part of the Illinois MDL. Yaz and Yasmin are popular oral contraceptives that have been linked to side effects such as blood clots, pulmonary embolism, stroke, heart attack, gallbladder disease, deep vein thrombosis (DVT), and breast cancer.
Wagamon filed her lawsuit in the U.S. District Court, Southern District of Illinois on June 8, 2012. Judge Herndon is overseeing A.W. vs Bayer Healthcare Pharmaceuticals. MDLs may be created when several plaintiffs have similar complaints against a defendant.
Claims of injury in the new Yaz lawsuit
Wagamon started taking Yaz on Oct. 1, 2009. Not long after, she developed DVT and a pulmonary embolism. DVT occurs when blood clots develop deep in the veins. Pulmonary embolism is a blood clot in the lung that causes shortness of breath and rapid heartbeat.
In her lawsuit, Wagamon claims Bayer failed to warn her about the risks associated with taking the medication. Wagamon says the company should have known about the risk of blood clots and pulmonary embolism before the product went on the market. She notes that after it went on the market, several individuals issued complaints about side effects from the drug to the Food and Drug Administration (FDA).
Wagamon alleges that despite evidence regarding incidences of blood clots and pulmonary embolism for Yaz users, Bayer continued marketing the oral contraceptive as a safe, superior birth control pill.
[SmartLink yazlawsuit]