A New Lawsuit Against DePuy Joins the Consolidated Proceedings in Cook County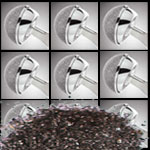 Janet Warner is seeking compensation for hip problems she experienced shortly after receiving her DePuy hip implant on September 9, 2008. Her DePuy lawsuit was filed on August 7, 2012 and was added to the consolidated proceedings currently taking place in the Circuit Court of Cook County, Illinois. The plaintiff claims that she suffered from high concentrations of metal in her bloodstream shortly after receiving her ASR implant. Warner alleges that when she received her hip implant, the warnings regarding the device were inadequate.
Hundreds of DePuy ASR hip failures are reported
By the end of 2007, more than 100 premature ASR hip failures had been reported. One year later, an additional 300 reports were added to that initial number. In 2010, DePuy issued a worldwide, voluntary recall of the ASR XL Acetabular system and the ASR hip resurfacing system.
Warner asserts in her lawsuit that shortly after receiving her hip implant in 2008, she began experiencing problems with the device. She eventually learned that the implant was failing and releasing high concentrations of metal debris into her bloodstream. She says that as a result of the DePuy implant, she has suffered from "injuries of a permanent nature" that have caused significant pain and suffering, and cost her substantial expense in terms of medical care. She alleges that she is "unable to attend to her normal affairs and duties for an indefinite period of time."
Multiple dangers associated with the DePuy ASR hip device
Through her attorney, Warner states that manufacturer DePuy Orthopedics and distributor Premier did not alert consumers or medical personnel about potential dangers associated with the device. She includes the following:
• Propensity of the device to loosen or detach
• Adverse reactions by patients to high levels of metal debris
• Inadequate design for hip replacement
• Design defects that resulted in an unusually high failure rate
• The risk of metal-on-metal wear and debris from components
Although the device was eventually the subject of a voluntary DePuy implant recall, it did not come until August, 2010 and was too later for Warner to realize the risks posed by her implant. Warner claims that DePuy knew of the risks associated with the ASR device, and failed to make proper notifications or issue appropriate warnings regarding potential complications.
Warner is seeking damages of an unspecified amount as compensation for her hip problems.
[SmartLink depuyhiplawsuit]