A New Study Details Common Reasons For Failed Metal-On-Metal Hip Implants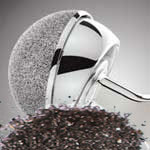 A new study published in the July 2012 issue of Orthopedics, the scientific journal, involved a review of 80 patients who underwent revision surgery for a failed metal-on-metal (MoM) hip implant. The most common reasons for failure included:
• Infection
• Metal hypersensitivity reactions
• Acetabular loosening (45 out of 80 patients)
The formation of pseudotumors (small pockets of swelling), implant design and size, acetabular component position, and obesity were also frequently cited as reasons for revision surgery.
Researchers also found that four out of five patients who experienced an adverse metal reaction were women.
MoM hips also have a reputation of being more difficult to implant than traditional plastic-on-metal or ceramic-on-metal designs. This study adds evidence to that idea, as the results supported the fact that acetabular component position is a major factor in whether or not patients develop an adverse metal reaction. Malposition of the cup was observed in several patients who had metal sensitivity.
The tissues surrounding the hip joint are vital
The study notes that significant metallosis, soft tissue changes, and pseudotumors were observed in a number of patients at the time of revision surgery. They note that the functioning of the tissues surrounding the hip joint is vital to the success of the implant and to the patient's clinical results.
In addition to causing DePuy hip revision surgery, these effects can also make it more difficult for revision surgery to be successful. Scientists concluded that revision rates for failed MoM devices may have poorer results because of the adverse effects on soft tissues.
The FDA reports many adverse effects over the past decade
According to an FDA report, nearly 17,000 adverse events were associated with these devices between 2000 and 2011. Still, the agency has not banned these devices.
This study concludes that more tests are needed to continue learning about the outcomes of these bearings and their potential unique complications. DePuy hip lawyers are likely to question why the company didn't perform these tests prior to releasing the implant on the market.
The report states that hips usually fail within the first two years
The report states that when MoM hips fail, they usually do so within the first two years. Patients who have been implanted with hips like the DePuy ASR, therefore, are advised to continue regular monitoring with their doctors, particularly during the first few years after implantation and watch for DePuy hip complications.
MoM hips combine a metal ball with a metal cup which can increase the risk of metal contamination. As the metal components wear against one another, they can release tiny shards of cobalt and chromium into neighboring tissues and the bloodstream, causing side effects that can lead to revision surgery.
In the wake of reports from patients about the need for premature revision surgery, the ASR hip device was recalled from the market in August 2010.
[SmartLink depuyhiplawsuit]