A Woman Suffering From Problems After Receiving a DePuy Implant Files a Lawsuit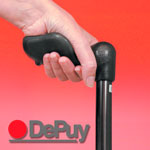 The DePuy ASR XL Acetabular Hip Replacement System was approved by the Food and Drug Administration (FDA) in 2005. However, it bypassed standard pre-market approval testing due to a process that grandfathers in devices similar to previous devices.
By the end of 2007, more than 100 people reported premature DePuy hip failure. By the end of 2008, more than 300 failures and associated hip complications from DePuy devices had been reported.
On August 26, 2010, DePuy Orthopedics issued a worldwide voluntary DePuy ASR hip recall. The company noted that the ASR XL Acetabular System and the ASR Hip Resurfacing System had higher than anticipated failure rates of 12 to 13 percent, meaning one in eight patients experienced a premature hip failure.
A lawsuit is filed after DePuy failure, pain and revision surgery
North Carolina resident Amy Wells hired a lawyer to file a lawsuit against DePuy after her ASR hip device negatively impacted her quality of life.
On March 31, 2008, Wells had the DePuy ASR XL Acetabular Hip Replacement System surgically implanted in her left knee. An active and healthy woman, she reported that within a year, pain from the device was so severe she couldn't sleep. By November 2, 2010, she described the pain level associated with the ASR hip as a nine on a scale of 1-10.
In 2011, Wells' blood test results revealed high levels of metal, particularly cobalt, in her blood. Complications from DePuy hip include metal poisoning (also called DePuy metallosis) which can occur when metallic pieces of the device enter the bloodstream. Wells has since undergone a hip replacement revision surgery and hired an attorney in an effort to obtain compensation for her losses.
Aside from hip failure and metal poisoning, problems with the DePuy devices have included loosening, bone fracture, dislocation, and the need for revision surgery to replace the device.
DePuy accused of failing to properly test their device
Wells vs DePuy Orthopedics was filed with the U.S. District Court, Eastern District of North Carolina (Northern) on July 25, 2012. Chief Judge James C. Denver, III is overseeing Wells' lawsuit.
Those who have hired an attorney seeking compensation from DePuy often accuse DePuy Orthopedics of knowingly marketing a defective device. In her lawsuit, Wells says the company failed to properly test the device and also failed to warn consumers about known side effects from the device.
[SmartLink depuyhiplawsuit]