Actos Manufacturer Accused of Having Knowledge of Serious Side Effects Pre-FDA Approval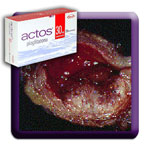 In 1999, the Food and Drug Administration (FDA) approved Actos as a treatment for type II diabetes. However, as cited in many lawsuits by an Actos attorney, Takeda Pharmaceuticals—the manufacturer of Actos—had knowledge of a two-year carcinogenicity study conducted before FDA approval. The study revealed that male rats receiving clinical doses of Actos developed drug-based tumors.
Furthermore, in 2005, results were published from the three-year PROactive (PROspective PioglitAzone Clinical Trial In MacroVascular Events) study. The study reviewed the total mortality and macrovascular morbidity in patients using Actos, but during the three-year period, researchers had become aware that there was a "statistically significant" demonstrated higher percentage of bladder cancer cases in patients using Actos versus competitors.
However, neither during the study nor in the final published results did Takeda publish information regarding the increased risk of bladder cancer from Actos.
Lawsuits allege concealment of information
This alleged concealment of information has led many lawsuits to charge Takeda with failure to warn. In fact, though the FDA has issued several safety announcements to warn the public of bladder cancer risks. Takeda still maintains its position. Robert Spanheimer, Vice President of Medical and Scientific Affairs for Takeda, claimed to Reuters that the Kaiser Permanente study has not shown a risk to patients of cancer after taking Actos.
A 2007 study also confirmed the risk of heart failure after taking Actos, another serious allegation in Actos litigation. Actos already carries a black-box warning that the drug may cause or worsen heart problems like congestive heart failure.
A bladder cancer lawsuit is filed against Actos
On July 20, 2012, Leandrew Williams, a resident of Mississippi, filed a lawsuit against Actos for his bladder cancer in the Circuit Court of Cook County, Illinois. Like other lawsuits involving Actos, Williams' complaint alleges that Takeda was aware of the risks, but chose to conceal their knowledge from patients and the medical community. In his lawsuit, Williams began taking Actos in 2011 for long-term maintenance of his type II diabetes. In 2011, the plaintiff was diagnosed with bladder cancer. He didn't discontinue his Actos treatment until 2012, when he became aware that the drug was linked to the increased risk of bladder cancer.
The plaintiff seeks damages
Williams charges Takeda with strict liability and negligence. He claims to have suffered, and states that he will continue to suffer injury of a personal and pecuniary nature, including pain and suffering, medical expenses, lost income, and disability. The plaintiff seeks to recover damages associated with his injuries.
Williams' lawsuit states that he, and, "his physicians were unaware, and could not have reasonably known or have learned through reasonable diligence, that [Williams] had been exposed to the risks identified in [his complaint], and that those risks were the direct and proximate result of [Takeda's] conduct."
[SmartLink actoslawsuit]