Arizona Woman Files MDL Lawsuit Alleging Multiple Complications From Vaginal Mesh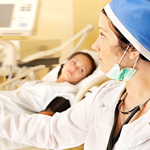 In a lawsuit recently added to the vaginal mesh MDL in the U.S. District Court for the Middle District of Georgia, plaintiff Mary Higbee states that she suffered and continues to suffer multiple transvaginal mesh problems from the ObTape vaginal sling device. Higbee, a resident of Arizona, filed her lawsuit against ObTape manufacturer Mentor Worldwide, LLC on August 7, 2012.
Plaintiff claims permanent injuries from ObTape sling
According to her lawsuit, Higbee suffered from stress urinary incontinence (SUI), one of the conditions which vaginal mesh slings are designed to treat. On October 4, 2004, she underwent surgery and was implanted with the ObTape sling with the goal of relieving her SUI. Higbee's doctors implanted the sling appropriately and properly.
But the ObTape sling subsequently caused Higbee a multitude of serious and ongoing pelvic mesh implant complications, including mesh erosion, bleeding, numerous infections, and internal and external scarring, the lawsuit claims, adding that she has sustained permanent injuries and now faces multiple surgeries, with all the mental and physical pain that prospect entails.
Manufacturer falsely promoted sling as safe, lawsuit alleges
Higbee charges that Mentor, the manufacturer of the ObTape sling, falsely promoted the sling as safe and effective for women with SUI, and that she relied on those assurances of safety in choosing to undergo surgery and be implanted with the sling. But the sling "was not a safe device, but a device known… to cause serious internal injuries," the plaintiff charges. In spite of known risks, Mentor continued to market the sling as safe, and failed to properly comply with federal law, Higbee alleges.
Because of the company's alleged "negligence and wrongful conduct, and the unreasonably dangerous and defective characteristics of the ObTape sling," the lawsuit states, Higbee has suffered and continues to suffer "severe and permanent physical injuries," and has incurred significant medical expenses.
Her lawsuit brings charges of failure to warn, negligence, breach of express and implied warranties, defective design, manufacturing defect, negligent and fraudulent misrepresentation, and fraudulent concealment, and seeks actual and punitive damages.
[SmartLink vaginalmeshlawsuit]