Illinois Man Claims Zimmer Knee Defects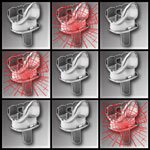 An Illinois resident has recently joined litigation against device manufacturer Zimmer after, he claims, he experienced complications related to his Zimmer knee device. The lawsuit was originally filed in the current ongoing Zimmer knee multidistrict litigation case in the United States' District Court for the Northern District of Illinois on January 12, 2012. On July 30, 2012, he adopted the short form complaint, as approved by order of the MDL court. Plaintiff Houston Williams claims that after being implanted with the Zimmer NexGen knee replacement system, he suffered from serious injuries that forced him to undergo revision surgery on his knee. He is hoping to hold Zimmer liable for damages.
Zimmer revision surgery claimed
Williams' lawsuit claims that he experienced Zimmer knee problems so severe that he had to undergo revision surgery, which is a risky second surgery intended to fix problems associated with a faulty or defective implant. He says he underwent the revision surgery on the 13th of January, 2011, after only about a year and a half of use of the knee replacement system, which was originally implanted on September 23, 2009. Williams claims that, as a result of his injuries, he suffered economic losses, pain and suffering, and emotional distress, and as a result of the defendant's alleged failure to adequately conduct clinical trials on their product, has suffered a loss of quality of life, society, consortium, and earnings.
The Zimmer NexGen GSF LEP-Flex is one of the components that many are pushing to be involved in a Zimmer knee replacement recall. The component, which was FDA-approved only through the fast-track 510(k) system, has been linked to hundreds of complaints of serious injury and implant defect.
Lawsuits claim defective implant
Williams claims in his lawsuit that Zimmer knew or should have known the risks associated with their product, but did not adequately warn patients about the possibility of serious side effects. He is charging Zimmer with design and manufacturing defect, failure to warn, negligence, breach of warranties, and unjust enrichment.
[SmartLink zimmerkneelawsuit]