Metal-On-Metal Hip Implant Recipients Experience a High Rate of Failure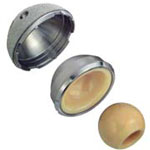 The medical journal Orthopedics published a new study stating that most metal-on-metal hip implant failures occur within the first two years after the patient has received the implant. According to the study, in a review of 80 patients who had revision surgery to correct a failed metal-on-metal implant. 78% of them experienced the device failure within two years of receiving the original implant, while 98% of them experienced that failure within three years. Of those individuals, 13% of them suffered from metallosis. Many medical professionals believe that metallosis is the result of metallic components in the device scraping and wearing together, sending tiny metallic particles into the tissue surrounding the implant, as well as into the bloodstream. Metallosis may lead to complications such as stiffness, pain and pseudo-tumors as the body works to isolate the metal components in the bloodstream.
Stryker initiates a voluntary recall and lawsuits are filed
In 2008, hip device manufacturer Stryker issued a voluntary Stryker hip replacement recall for its Trident Acetabular Cup and the Trident Hemispherical Cup systems. At that time, numerous people had come forward alleging complications such as implant failure, bone fractures, pain, squeaky joints, and others. Reports of complications associated with the device dated back to 2005, but Stryker did not issue the recall until 2008.
In 2009, after numerous people filed a Stryker hip implant lawsuit stemming from damage associated with the Stryker Trident hip, the cases were centralized in Atlantic City, New Jersey, but the court did not opt to combine the cases as part of a mass tort.
Complaints of complications dated back to 2005
Recently, in 2012, Stryker issued a voluntary recall for Stryker Rejuvenate and ABG II modular-neck stems. As with other metal hip devices, the Stryker Rejuvenate has been linked to metallosis. In announcing the recall, the company said it was troubled by the "potential for fretting and corrosion at the modular neck junction which may lead to adverse local tissue reactions."
Metal-on-metal hip implants remain controversial due to concerns about their safety. In August 2012, Johnson & Johnson subsidiary DePuy recalled its ASR hip model after finding that 12-13% of such products failed within the first five years.
[SmartLink strykerhiplawsuit]