Minnesota Yaz Lawsuit Filed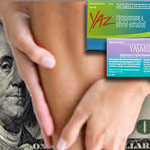 A lawsuit filed by a Minnesota woman, Cathy Wagamon, claims that the plaintiff suffered a pulmonary embolism as a result of her use of the popular birth control medication. Yaz and Yasmin are both popular oral contraceptives that have been linked to pulmonary embolism, stroke, heart attack, deep vein thrombosis, and gallbladder disease, among other serious and potentially life-threatening complications. A number of women have filed suit against drug maker Bayer, including plaintiff Wagamon, whose lawsuit was filed in the multidistrict litigation case taking place in the United States' District Court for the Southern District of Illinois on the 8th of June, 2012. She is seeking compensation for the injuries that she claims to have suffered as a result of her use of the medication.
Bayer failed to warn, plaintiff claims
According to her lawsuit, Wagamon began taking Yaz birth control on October 1st, 2009, and shortly thereafter developed deep vein thrombosis and pulmonary embolism. Deep vein thrombosis occurs when blood clots form deep in the veins of a patient, while pulmonary embolism is a potentially fatal condition marked by blood clotting in the lungs.
Wagamon's Yaz litigation claims that she developed pulmonary embolism from Yaz and would not have taken the medication had she known the risk of developing such a condition. She notes that after the medication went on the market, a number of patients issued complaints about side effects of the medication to the Food and Drug Administration, but Bayer Pharmaceuticals did not warn patients about the potential side effects of the medication until they were forced to by the Food and Drug Administration. The lawsuit claims that the drug maker continued to market Yaz as a safe and superior birth control pill. Follow this link here for more information about pulmonary embolism from Yaz.
Settlements reached in several lawsuits
A number of lawsuits that have been consolidated in the ongoing multidistrict litigation case in Illinois that deals with lawsuits related to side effects of the medication have reached settlements out of court. At least 1,444 plaintiffs have received settlements from the drug makers, but despite this, about 14,000 cases are still pending against Bayer.
[SmartLink yazlawsuit]