Pfizer Responds to Zoloft Suits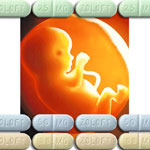 Pfizer has issued a response to claims made in a recent lawsuit issued by a plaintiff claiming to have experienced Zoloft side effects. The lawsuit, which was filed in New Jersey, claimed that the plaintiff's child was born with birth defects related to the mother's use of the drug during pregnancy, and that there were no clear warnings on Zoloft packaging or in related information that would warn her of the risk of birth defects when she first began using the medication. Caitlyn Falcon, the plaintiff in the case, originally filed suit in Atlantic County Superior Court, but the lawsuit was recently transferred to the United States' District Court in the District of New Jersey at Pfizer's request.
Pfizer responds to lawsuit
Pfizer denies that they failed to provide proper warnings about potential birth defects on packaging for the medication. The defendant states that "the FDA-approved label for Zoloft accurately represented the risks and benefits of Zoloft and denies any allegation to the contrary". The drug maker, in addition, "denies all allegations of duty, breach, negligence, defect, causation, and demands strict proof thereof.
Pfizer has made it clear that the burden of proof lies with plaintiff Falcon, but the history of Zoloft-related litigation shows that the burden of proof has been argued, successfully, by a number of plaintiffs with similar complaints in the past. A recent multidistrict litigation case was established in the United States' District Court for the Eastern District of Pennsylvania in a move intended to consolidate a number of federal lawsuits dealing with side effects and birth defects that have been linked to the use of Zoloft.
Birth defects from Zoloft a serious concern
Heart defects, persistent pulmonary hypertension, craniosynostosis, abdominal defects, limb abnormalities, and neural tube defects have all been linked to the use of Zoloft during pregnancy. Many of the parents of children born with Zoloft birth defects have chosen to file suit against Pfizer in the hopes of winning compensation from the drug maker.
[SmartLink zoloftlawsuit]