Plaintiff Hospitalized for Nine Days for Uncontrolled Pradaxa Bleeding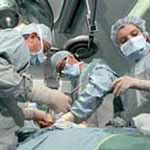 A patient who had to be hospitalized for nine days due to life-threatening Pradaxa gastrointestinal bleeding has filed a lawsuit against Boehringer Ingelheim, manufacturer of the blood-thinning medication. The plaintiff filed his lawsuit on August 14, 2012 in the United States District Court, Eastern District of Arkansas.
According to his  lawsuit, the plaintiff began taking the anticoagulant on January 2, 2012. Three months later, on April 4, 2012, he began to suffer excessive and uncontrollable bleeding, and had to be hospitalized for nine days.
In his lawsuit, the plaintiff states that if he had known about the risks associated with Pradaxa, he would not have chosen to take that medication, and that Boehinger Ingelheim was negligent in failing to warn about these risks. He brings claims of negligence and product liability, among others.
More than 500 deaths linked to Pradaxa bleeding
Pradaxa is an anti-coagulant that is usually prescribed to prevent stroke in patients who suffer from non-valvular atrial fibrillation, a condition that allows blood clots to escape and move through the patient's body. Pradaxa was marketed as a more convenient alternative to warfarin (sold under the brand name Coumadin), which had been on the market for more than half a century, because unlike warfarin, Pradaxa users don't need to adhere to a restricted diet or monitor their blood levels frequently. But while both drugs carry the risk of bleeding, bleeding from warfarin can be reversed by administering Vitamin K, whereas there is no known antidote for bleeding that is caused by Pradaxa.
Pradaxa was first approved and put on the market in 2010. Within 14 months, the FDA had gotten more than 500 reports of death from Pradaxa bleeding, as well as more than 900 cases of gastrointestinal bleeding, more than 300 cases of rectal bleeding, and more than 200 cases of cerebrovascular accidents among Pradaxa users.
Pradaxa MDL established
As reports of bleeding began to rise, patients who had suffered these side effects began to file lawsuits against the manufacturer of Pradaxa. So many lawsuits were filed that on August 8, 2012, the U.S. Judicial Panel on Multidistrict Litigation established a Pradaxa MDL to consolidate federal lawsuits under Judge David R. Herndon in the United States District Court for the Southern District of Illinois.
[SmartLink pradaxalawsuit]