Plaintiff Must Be Monitored For Life Due To Pradaxa Bleeding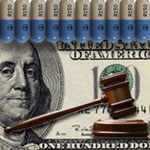 On July 18, 2012, a lawsuit was filed against pharmaceutical company Boehringer Ingelheim by a plaintiff who allegedly  suffered excessive internal bleeding after Pradaxa use and as a result, must undergo monitoring and medical treatment for the rest of his life. The plaintiff had been prescribed Pradaxa for his non-valvular atrial fibrillation. His lawsuit was filed in the U.S. District Court, Southern District of Illinois.
The lawsuit alleges that Boehringer Ingelheim failed to adequately warn patients and doctors that Pradaxa could cause excessive bleeding with no known antidote, and brings counts of strict liability, negligence, breach of implied and express warranties, fraudulent concealment, and loss of consortium, among others.
History of Pradaxa
Pradaxa is an anticoagulant, or blood-thinner, which is used to prevent strokes in susceptible patients by thinning the blood so that clots don't form. The drug was approved by the FDA on October 9, 2010, and was the first anticoagulant approved to treat non-valvular atrial fibrillation in the U.S. since the approval of warfarin 50 years earlier.
Pradaxa was hailed as a more convenient anticoagulant than warfarin (which is sold under the brand name Coumadin), because patients on warfarin must follow a special diet and frequently monitor their blood levels, while Pradaxa patients don't. But while both anticoagulants carry a risk of bleeding, patients who suffer uncontrolled bleeding from warfarin can take Vitamin K to counteract the drug's effects, whereas internal bleeding after Pradaxa use has no known antidote.
From October 2010 through June 2011, the FDA received nearly 1,800 serious adverse event reports about Pradaxa. By December 31, 2011, there had been more than 500 reported Pradaxa deaths, as well as 900 gastrointestinal hemorrhages, 300 rectal hemorrhages, and 200 cerebrovascular accidents. On December 7, 2011, the FDA issued an announcement that it would conduct a Drug Safety Review of Pradaxa, looking at post-marketing reports of complications from the drug.
Pradaxa litigation
As a result of these serious adverse side effects, many lawsuits have been filed by patients who have suffered side effects from Pradaxa, including at least 21 federal lawsuits. Boehringer Ingelheim filed a document with the U.S. Judicial Panel on Multidistrict Litigation in June, indicating the company's support of the creation of a Pradaxa MDL.
[SmartLink pradaxalawsuit]