Plaintiffs Seek Establishment of Biomet Hip Implant MDL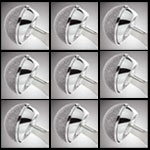 Two plaintiffs who have filed lawsuits against hip implant manufacturer Biomet over complications from the company's M2a Magnum hip have asked the U.S. Judicial Panel on Multidistrict Litigation to establish a Biomet MDL to consolidate such lawsuits. Their motion to establish the MDL was filed with the JPML on June 27, 2012. In the motion, the plaintiffs state that the FDA has received more than 450 adverse event reports concerning the M2a Magnum. They also allege that Biomet was aware of the implant's risks, but did not warn the public or the medical community and continued to market the hip despite its flaws.
Concerns about Biomet hip echo those of Zimmer hips and other metal-on-metal implants
Like the Zimmer and DePuy hip implants that have been the subject of so many lawsuits, the M2a Magnum is a metal-on-metal hip, and is therefore at risk for the same kinds of complications cited by plaintiffs who file a Zimmer hip lawsuit or DePuy suit. Metal-on-metal hips have been found to have a high failure rate and a high incidence of complications including pain, immobility, implant loosening, popping and clicking, dislocation, bone fracture, and metallosis (metal poisoning), which can occur when metal particles from the implant rub off and get into the patient's tissues or bloodstream. In many cases, patients are forced to undergo hip revision surgery to repair or replace the faulty hip implant.
Other hip implant MDLs
If the Judicial Panel on Multidistrict Litigation grants the plaintiffs' motion, the Biomet MDL would be join a growing list of MDLs that have been created to consolidate lawsuits involving other hip implant manufacturers. In their request, the plaintiffs note that a Zimmer MDL was established in June 2010 in New Jersey and that more than 150 lawsuits seeking Zimmer hip lawsuit settlements have been transferred to that MDL. The first bellwether trial in the Zimmer MDL is scheduled to begin later this year. Hundreds of other plaintiffs have sued DePuy Orthopaedics and Wright Medical Technologies over complications. In the wake of so many lawsuits, the FDA has recently begun investigating the safety of metal implants.