Stryker Hip Compensation Could Vary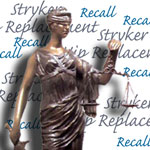 Hundreds of patients who have experienced injuries related to their Stryker hip replacement systems have filed lawsuits against the manufacturer. 174 plaintiffs are currently pursuing claims against manufacturer Stryker in the New Jersey Superior Court for Atlantic County, and most of these lawsuits deal with the Trident PSL and Hemispherical Acetabular Cups, which were recalled in 2008. Now, with the company's newest recall, which took place on the 6th of July, 2012, it is expected that a new wave of plaintiffs will file a Stryker hip replacement lawsuit in the hopes of winning compensation for the injuries they have suffered after being implanted with the hip replacement system. The most recent recall deals with the Rejuvenate and ABGII modular-neck stem devices, which are components used in all-metal hip replacement systems.
Criteria for hip settlements
In a lawsuit, the plaintiff's individual medical history must be considered, as well as the extent of the injury and the relationship between the injury and the product at issue. If there's enough evidence that links the injury to wrongful conduct of the defendant, a plaintiff might be entitled to compensatory and/or punitive damages from the defendant. However, factors must be determined carefully, otherwise plaintiffs may lose money by gambling on whether or not they might be entitled to a settlement.
Patient médical records, corporate documents, and expert medical testimony might be examined in a lawsuit dealing with injuries related to the Stryker hip replacement systems in question. The total amount of compensation for Stryker injuries may be made up of a number of categories, and in the case of a personal injury lawsuit, a plaintiff can recover damages for the following categories: past and future medical expenses, out of pocket expenses such as travel, loss of wages in the past and future, disability, and pain and suffering.
Punitive damages could be added
Juries may also award punitive, or exemplary, damages in some cases. These damages are intended to punish certain conduct on the part of a defendant, and are not as much intended to compensate a plaintiff for money he or she may have lost. Punitive damages are only awarded in cases of serious misconduct by a defendant.
[SmartLink strykerhiplawsuit]