Stryker Hip Revision Surgery Sometimes Necessary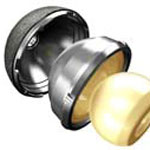 A number of patients who have been implanted with a Stryker Rejuvenate, ABG II, or Trident hip replacement system may be victims of problems associated with the hip replacement device. Pain, metal contamination, immobility, bone fractures, and premature loosening can all plague patients who have been affected by injuries related to their Stryker hips. Although most hip replacement devices are designed to last 10-20 years, the aforementioned Stryker hip replacement systems have been linked to higher than normal failure rates, and have as a result been the subject of a Stryker hip replacement recall.
What is hip revision surgery?
Some patients who have experienced complications related to the use of their hip replacement system have been required to undergo hip revision surgery. Revision total hip anthroplasty, another name for a hip revision surgery, is a procedure intended to remove and replace a worn out, defective, loose, or broken hip implant device. During this procedure, the old hip replacement device is removed and replaced with a new one, and the surgeon may need to repair nearby tissues and/or bone if damage was done to the surrounding area. While hip replacement surgery can help relieve the pain associated with hip replacement problems, it can case additional and serious damage to an affected joint.
A number of patients who have had to undergo hip revision surgery related to a Stryker hip replacement device may have chosen to file a lawsuit against Stryker in the hopes of winning damages that could cover their medical bills. Because revision surgery is the most drastic step that can be taken in terms of hip replacement side effects, patients who have had to undergo this surgery may have the best chance of winning significant compensation as they become involved in a Stryker hip implant lawsuit.
Stryker recalls take place
The Stryker Trident, Rejuvenate, and ABG II hip replacement systems were all subject to recall, in 2008 for the Trident and 2012 for the Rejuvenate and ABG II devices. These recalls have been an indication to many that Stryker is acknowledging serious problems related to their devices, and since the recalls took place a number of patients have chosen to take steps towards filing suit against Stryker.
[SmartLink strykerhiplawsuit]