The U.S. Department of Justice Investigates Kickbacks From Stryker to Doctors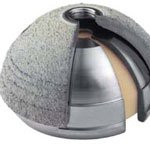 In 2009, the New Jersey Supreme Court agreed to centralize all lawsuits stemming from patients concerning the Trident hip implant into one court in Atlantic County. These cases typically involve patients who are seeking settlements for their alleged injuries when the Trident hips caused bone loss, fractures, or premature implant failures.
The Trident was released in 2003, and is a ceramic-on-ceramic device. The company issued a recall on the Trident Acetabular and the Trident Hemispherical Cup Systems in 2008 because of problems linked to the devices.
The more recent recall of Stryker devices including the Rejuvenate and ABG II implants came about after patients complained of symptoms related to metal poisoning.
The Rejuvenate has a modular-neck system that places a metal neck into a metal stem. These components have been found to rub against one another in some cases, causing metal erosion and contamination, which can lead to tissue and bone damage. Patients who have been injured by any of these devices may be eligible to file suit against Stryker and seek compensation for their injuries.
A subpoena is issued requesting documents from Stryker regarding kickbacks
In March of 2005, the U.S. Department of Justice issued a subpoena requesting documents from Stryker Orthopaedics. These documents, which included consulting contracts, professional service agreements, and remuneration agreements between the company and surgeons or medical school graduates, were to be reviewed because of concerns that Stryker had paid kickbacks to those willing to promote their hip implant products, which would've been a violation of federal law.
Stryker has recently been in the news because of a Stryker hip recall concerning the metal-on-metal Rejuvenate Modular and ABG II hip implants, which were associated with device corrosion and deterioration. The recall was announced on July 4, 2012, and is likely to spawn a new wave of people across the nation filing a Stryker hip replacement lawsuit.
Stryker and other companies are included in the lawsuit
The lawsuit brought against Stryker Orthopaedics by the U.S. Department of Justice in 2005 concerned not only Stryker, but other hip implant companies, including DePuy, Zimmer, Biomet, and Smith & Nephew. All five companies were accused of paying kickbacks to doctors.
The investigation by the department uncovered evidence that the companies paid huge amounts of money to orthopedic surgeons so they would market and use specific products. Patients, however, were left in the dark as to the tens of hundreds of thousands of dollars being paid to surgeons for consulting contracts. Lavish trips and other expensive rewards were also showered on these doctors, who failed to disclose to their patients the reasons for choosing one implant over another.
Government attorneys concluded in 2008 that the payments were contrary to ethical standards and federal law. Four companies were ordered to pay fines. Stryker, however, was the only company that did not have to pay. Because they voluntarily cooperated with the U.S. Attorney's Office, they were exempted from fines, but agreed to be monitored for 18 months.
[SmartLink strykerhiplawsuit]