Warnings From the FDA And Lawsuits Spur A Recall Of Stryker Trident Hip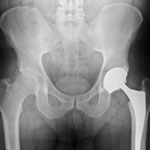 The FDA approved the Stryker Trident hip implant, manufactured by Stryker Orthopedics, in 2003. By 2007, the agency had launched an investigation of the company's manufacturing facilities. In March 2007, the FDA sent a warning letter voicing concerns over the facility in Cork, Ireland. It was there that violations in the manufacturing, packaging, and storage of the Trident Acetabular System had been found.
In November 2007, the FDA sent a second warning to the company, this time citing concerns with the New Jersey manufacturing facility. In addition to finding "staph" bacteria clusters throughout the plant, the agency rebuked Stryker for failing to address the complications from Stryker hip reported in relation to the Trident hip implant.
In January 2008, Stryker implemented a Stryker hip recall withdrawing several Trident ceramic hip components from the market. These components were blamed for complications like inflammation and pain, squeaky joints, bone fractures, and failure of the implant.
Problems with Stryker hip cause patients pain and revision surgery
Ellyce Rumick filed a Stryker hip lawsuit in the Circuit Court of Cook County, Illinois, on November 6, 2009.
According to her filing, Rumick was implanted with the Stryker Trident hemispherical acetabular shell in her left hip. The product did not adhere to the bone as it was supposed to, causing Rumick to suffer pain and anguish. Eventually, she required a Stryker hip revision to replace the implant.
A ceramic-on-ceramic device, the Stryker Trident hip implant was designed to produce less wear and tear than metal and plastic materials. Laboratory testing had shown the ceramic materials to demonstrate less wearing because of the hardness of the material.
11.4 percent of ceramic-on-ceramic implants reported squeaking
Post-marketing reports indicated that the implant was not performing as expected. A study published in Orthopedics Today concluded that 11.4 percent of ceramic-on-ceramic implant recipients have experienced squeaking, often loud enough to require revision surgery.
On March 31, 2009, the New Jersey Supreme Court centralized the handling of all pending and future cases involving these implants filed in the New Jersey Superior Court and assigned them to Atlantic County where Judge Carol E. Higbee will manage the proceedings.
On December 14, 2009, Rumick's case seeking a judgment or Stryker hip settlement was tagged for removal to federal court.
[SmartLink strykerhiplawsuit]